Spring style is alive and well, even with us under this quarantine! I'm all about getting up and getting dressed every single morning for the day. I'm thrilled to share with you today some of my favorite cabi styles, including my favorite spring cabi jacket (hint, it's going fast!) and (what I call) chill clothes.
cabi Jacket You NEED this Spring 2020
I've been a cabi lover for years. Each time a new collection is launched I wait with bated breath to see what it looks like. This cabi spring 2020 collection was over the top spectacular for me. I couldn't get over the variety of styles and the mixture of colors and prints and textures. Everything was spot on, especially this new cabi jacket (I will tell you below!) that I'm ga-ga over!
A few weeks ago I shared all about my cabi Spring 2020 Siren Dress, which is another love of mine right now. It's a perfect dress to wear as is and also as a toss on over jeans and a tee! You'd kind of be wearing it like a cabi jacket, pretty cool – right? I love the variety of ways to wear items from cabi. They really think of everything and I've always appreciated that about cabi.
As I've shared before, cabi brings positivity to women through helping the way they dress and feel every day. It's that simple and it's that pure. People do always ask me what it is that I love about cabi and my answers are always the same:
1. First — cabi clothing is just incredible and beautiful. The clothes are stylish and the quality is incredible. And (the best) it's always on-trend.
2. The business opportunity of being a stylist and having your own cabi team is just incredible for women. This is a huge piece of cabi that I just personally love. I'm an entrepreneur myself, so I love any company that wants to help women build a business. I also have always been impressed by the consistent support each cabi stylist gives each other.
3. Last I love their Heart of cabi Foundation. The mission of this Foundation is to encourage and empower women in need. I think it's amazing that they are extremely passionate about serving and investing in women across the globe. This always makes my heart full.
Right now it's (obviously) a really crazy time. One "trick" I have learned throughout my years of working from home is to get up and get dressed every morning. You don't have to be rocking a power suit, but wearing something that makes you feel fashionable or pretty or stylish will always jumpstart your day! It's time to take out you fave spring styles and wear them, don't just be sitting around in your pajamas!
I've gotta start off with my FAVORITE spring cabi jacket, say hello to the Poet Jacket!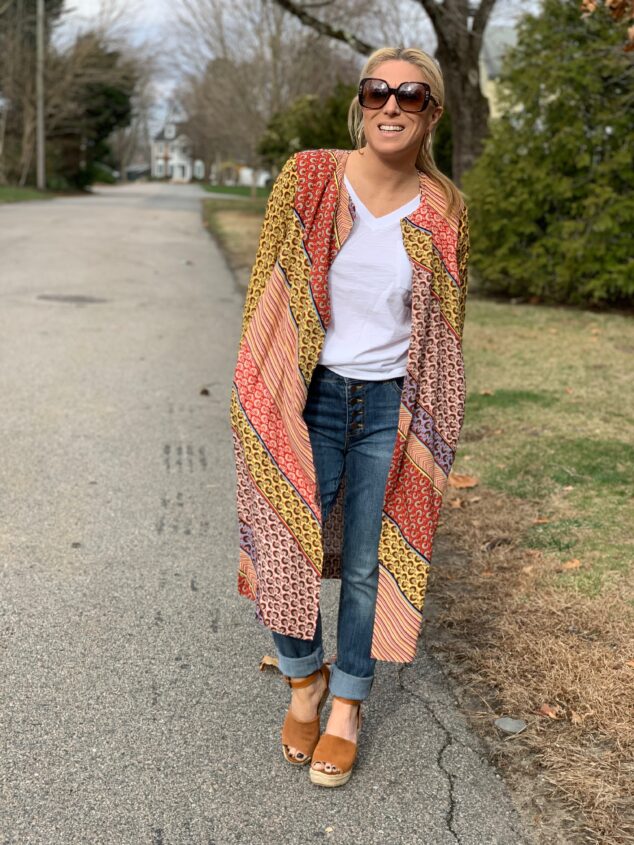 I'm obsessed with this cabi Poet Jacket. I don't normally get obsessed with items, but I can't help it with this one… it's perfection.
Nothing rings in springtime like a whimsical boho topper. The open design Poet Jacket comes in a patchwork print with a long, relaxed shape. Drape this number over any spring outfit to add a touch of lyricism to your look.
Patchwork Print
Three-quarter sleeves, loose shape, self-tie, no stretch
100% Viscose
Available in sizes XS-XL
I love that I can toss my cabi jacket over jeans and a tee or toss it over a little black dress (and everything in between). It's super lightweight and super easy to wear. It's also such beautiful colors and makes me so happy!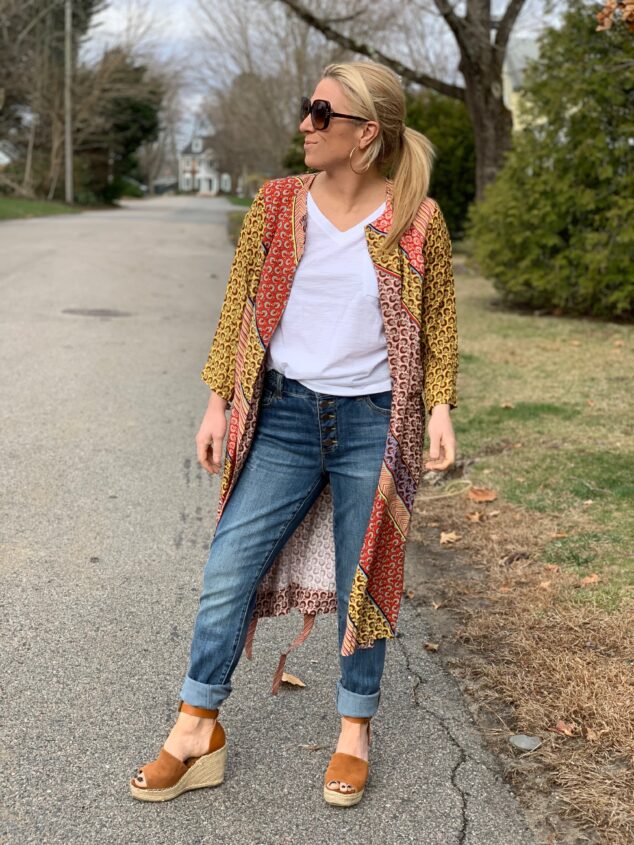 I'm someone who loves a good denim jean to chill in. As much as people say jeans might not be the easiest and most relaxing to "hang" in, I personally love them so much. These cabi Button Fly Skinny Jeans are super comfy and the denim has a great stretchy feel.

This season's Button Fly Skinny is a spin on our Fall '19 design, this time with braid detailing on the waistband for a retro feel. These slim-fitting skinnies have a high rise cut with a classic 5-pocket style and an exposed button-up fly.
Dream Weaver Wash
High rise, skinny fit at the hips and thighs, skinny leg shape
Cotton blend
Available in sizes 0-16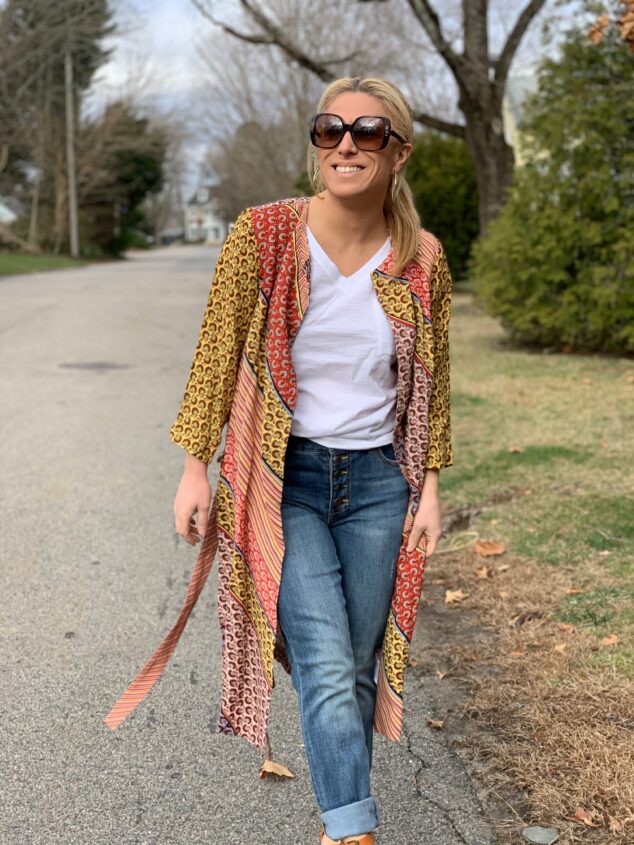 Who doesn't need a great new white tee? I'm in love with my cabi Fold Pocket Tee! It's so soft and so cozy and so comfy! Everyone needs a crisp white new tee! It goes with everything!
A classic white tee should be a staple in every woman's closet. The Fold Pocket Tee has an origami pocket detail with a V-neckline and a high-low hem. Done in a cotton slub knit, it looks and feels great!
White
Cap sleeves, tunic length, easy shape
100% Cotton
Available in sizes XS-XL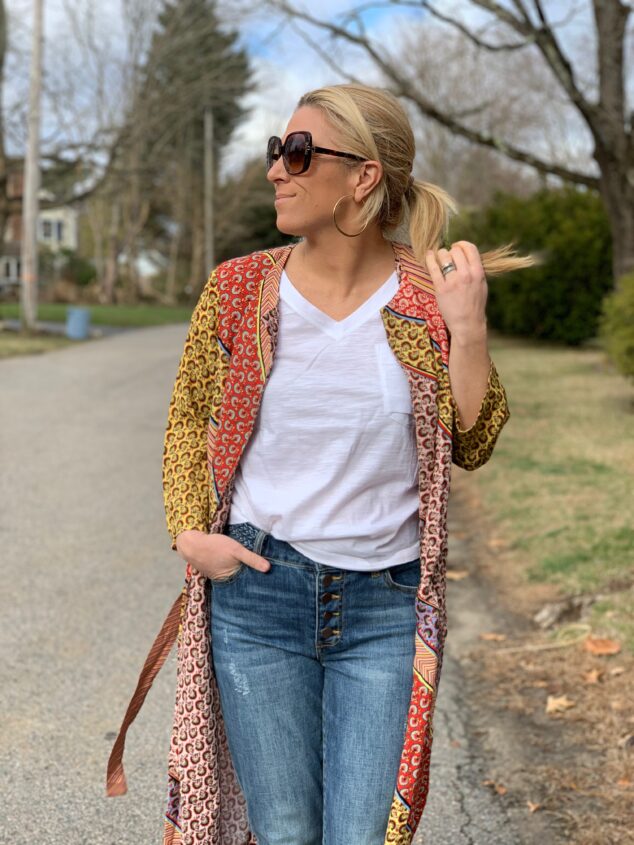 Working from home isn't always easy, but when you have the right mindset and follow certain strategies, you'll conquer it! Waking up early and getting myself prepped as if I'm leaving the house has always been my biggest tip to share. I even toss on a little makeup (yes, for myself!)! Thank you cabi clothing for all that you're doing to keep me feeling normal and beautiful at the same time!

And make sure you snag a cabi jacket!
Please don't forget to join my Daily Dose of Style FACEBOOK GROUP! This has turned into my favorite spot online and I love sharing there every single day! It's been an outlet for me to be open and honest about my fashion loves! It's a great place to learn new things, so I hope you come on over! I'm also going to be starting a kid fashion one soon, too!
Loving this Fashion Over 40 – Daily Dose of Style Facebook Group (that I would LOVE for you to join) and I share trends and styles every single day in there, along with the best sales online for fashion. I fully believe that you can and should be able to look your best without breaking the bank. You want to feel confident and beautiful and you CAN! I hope my info helps! We have a ton of fashion fun in there! And you don't need to be 40 years old!!!!!!!

HEAD ON OVER AND JOIN US HERE!!! I also share beauty tips there, too. Love your support and let me know what it is you're looking for, too!
Make sure you share with me if there's something you love and I missed it on the blog! See my last post on my FREE Makeup Samples! I'm all about sharing everything I can when it comes to fashion and beauty! Hope these posts help you out!