With everyone stuck inside right now, it's time to do some major home cleaning. I feel like it's been the ONLY thing we've been doing for the last few weeks. My goal is to have every aspect and nook and cranny of this house organized and cleaned by the summer. I'm sharing with you the weekly cleaning checklist I've compiled for my family! It's time to have a Spring Cleaning List!
Home Cleaning Weekly Checklist
Call it what you will… a housekeeping checklist, a cleaner planner, an apartment cleaning schedule… all that matters is that you have a routine for your cleaning that you stick with and keep up with throughout the weeks. We've been doing this for years, but always get side tracked in the winter months because we're so busy! Now? I'm making sure we're all back on track and getting going with a home cleaning weekly checklist.
With our schedules full right now with school, I wanted to make a home cleaning checklist and schedule that would be easy for everyone to take on. I decided to tackle ONE room a day with my routine. I feel like it's the easiest way to do it. This way there's no guessing with my family. I assign a room and we clean it. To make it even easier – I outline 3 tasks that need to be done.
See below for my Home Cleaning Schedule: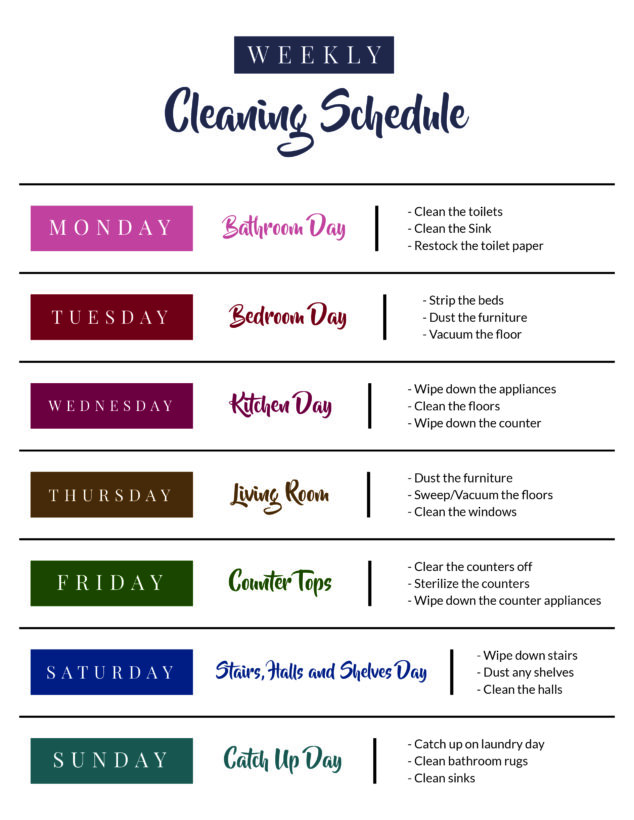 You can down the PDF printable Home Cleaning Weekly Schedule HERE.
Let me break down each room for you:
Bathroom Day – Many people have more than 1 bathroom in their homes, but if you live in an apartment – your apartment cleaning schedule won't be as difficult, but use this as your gauge to clean, too. I added 3 things to do in the bathrooms, but don't discount the floors, too. Make sure you're tidying up as well as cleaning! Change the towels in there, too – it's all about creating a bathroom cleaning schedule.
Bedroom Day – Strip, dust and vacuum the bedrooms! This is where you sleep, so this area needs to be kept as clean and as tidy as ever! We have 4 bedrooms in our home, so we're constantly cleaning. When I kept telling the kids to do it all the time, I had a lot of push back, so I decided to make it BEDROOM DAY!
Kitchen Day – I'm all about my kitchen! To be honest with you, I feel like Kitchen Day should be every single day, but there's one day a week where you really need to be deep cleaning. When you're doing a home cleaning you need to isolate your key zones. The kitchen is a key zone.
Living Room Day – We all need a living room day for cleaning! This is a great time to really get through and make sure you're cleaning your living space. This is where many people hang out with their families and just chill. Make sure you're getting the dust cleaned and the furniture dusted. I love walking into my living room and seeing it clean and sparse and organized!
Counter Tops – I learned one thing years ago… when you go to bed at night with clean counters and a clean sink, you wake up to a clean kitchen! I'm all about counter top cleaning day for my home cleaning schedule because it's important to make sure this area of your kitchen is always clean. So much happens on the counter tops, so you want to make sure these are clear as possible.
Stairs, Halls and Shelves – This is a big deal for my house! I love making sure my stairs and halls and shelves are dusted and clean. These were always the last things to get done, which is why I added them to my home cleaning list. These are areas or zones that need to be worked on.
Catch Up Day – Anything you missed or need to get done, add it here! Some people have patios or playrooms or basements – add these areas here! Let this day be your day. Let this day be the day you catch up on everything or anything you have extra in your house. Maybe you need an extra bathroom day or bedroom day for your home cleaning – add it here!
I love being able to layout my schedule for you! I hope this helps and I hope this keeps you on a home cleaning schedule. Right now more than ever with everyone home, it's important to make sure you're keeping your house as clean and as tidy as can be. I've always said, chaos breeds chaos… when you don't have chaos, it can't be breed!
Make sure you check out my latest online "party"! Vera Sweeney and I are hosting THE RESET, a digital lifestyle show for moms and dads out there navigating this new world!