There's one pasta dish I love more than anything… Chicken Alfredo. It's one pasta dish that I would (and could) eat every single day. Whenever people think about making Chicken Alfredo at home, it seems daunting. It's not as simple as making pasta with red sauce, but I promise you there is a simple Chicken Alfredo recipe that you can make at home. PERDUE® has made it very easy for families out there (especially right now) to make some delicious recipes right at home.
Simple Chicken Alfredo Recipe
Here's the real deal right now. I'm all about cooking, but I need it to be simple and easy. I always get annoyed when people don't think I'm a domestic goddess in the kitchen because I don't blog about food all the time. Honest truth? I personally love cooking and baking. I feel calm and relaxed in the kitchen. I love pouring a glass of wine with my husband and chatting away while we cook. It's zen to me.
This simple Chicken Alfredo recipe is a family staple because it's just a practical recipe. You know I love me some Perdue Farms and this recipe is extra easy because of particular PERDUE® products. I used for this recipe a PERDUE® product that I've had in my freezer for awhile now. We have an extra freezer in our basement, so I love stocking up on products that I love (this being one of them). PERDUE® SHORT CUTS® are perfection because they are literally a cooking shortcut.
I actually just stocked up on PERDUE® Grilled Chicken Breast Strips which are just as amazing over at PerdueFarms.com. What I love about this product and why I can easily use this in my Alfredo is that it cuts down on the cooking time of the chicken. Everything is done for me! We start with boneless, skinless chicken breast, which is marinated in a secret blend of seasonings and spices before being grilled to perfection. Each batch is then frozen and packed in a 22-ounce resealable bag. Viola!
You can use either one of these products in your Chicken Alfredo to make it as practical and as doable as possible!
Ingredients:
2 tablespoons butter
1 tablespoon minced garlic
3 cups chicken broth (32 oz)
8 oz dry asta – linguine
1/4 teaspoon salt
1/4 teaspoon pepper
1 cup half and half
3/4 cup grated Parmesan cheese
1 package, 9 oz, Perdue Short Cuts Carved Chicken Breast (cooked)
2 tablespoons shredded Parmesan cheese
chopped fresh parsley
Are you prepared to see how easy this recipe is? Check this out!
Directions:
In a large skillet, add butter and garlic. Cook over medium heat until garlic begins to brown.
Add chicken broth, pasta, salt and pepper.
Boil for 12-14 minutes or until pasta is al dente and most of the liquid is gone.
Add half and half and grated cheese and mix well, stirring until bubbly.
Stir in chicken and heat for 1-2 minutes or until hot.
Serve topped with shredded cheese and chopped fresh parsley if desired.
Serves 4
*Since we have 7 people in our family, I usually would double this for a family meal. If I'm making for just me and my husband, I stick with this one.
It's always easier to show a recipe in photos just to make sure you're doing it well. Here's the entire recipe in order by photos! If you have any questions, drop me a comment below!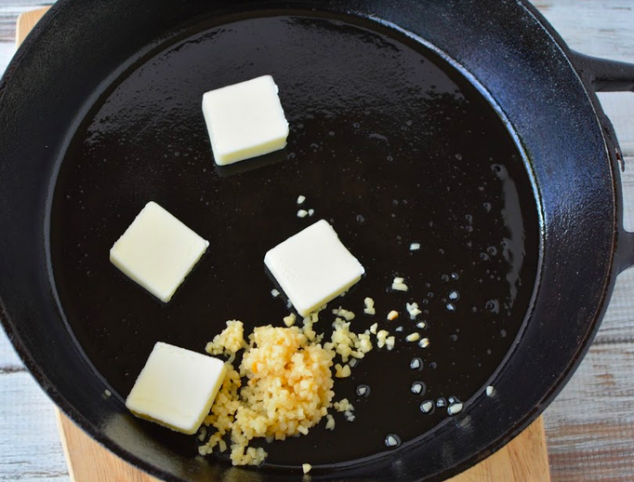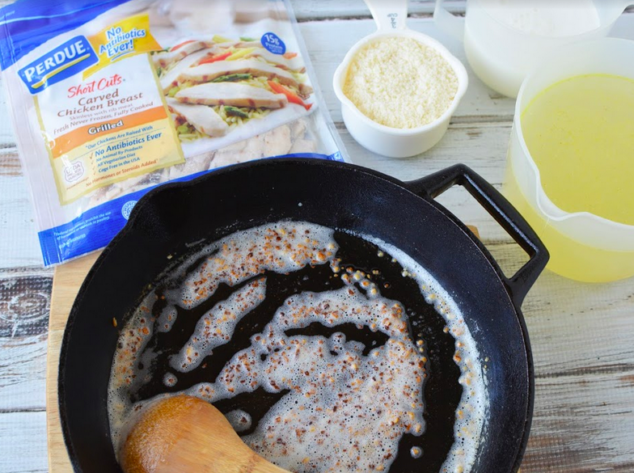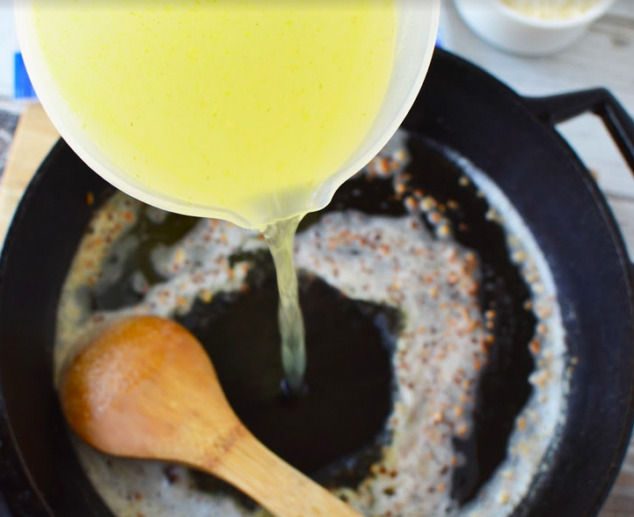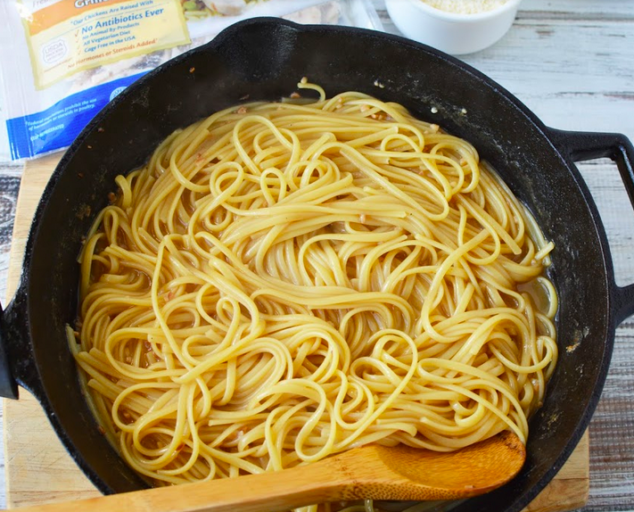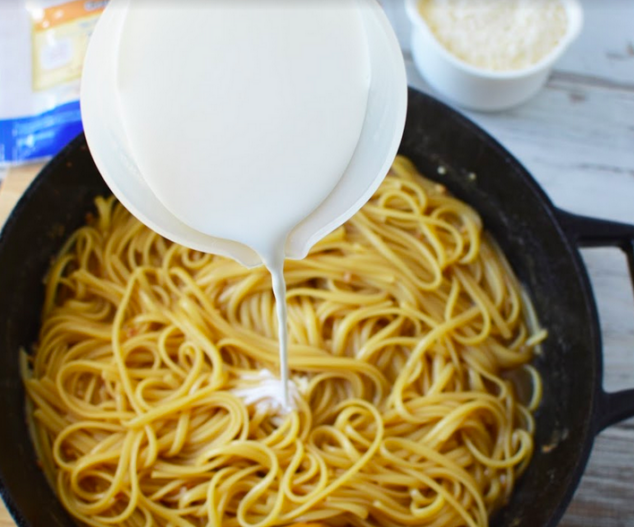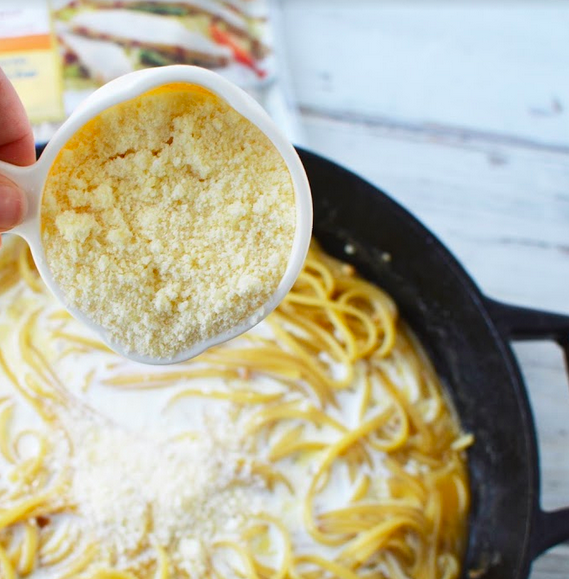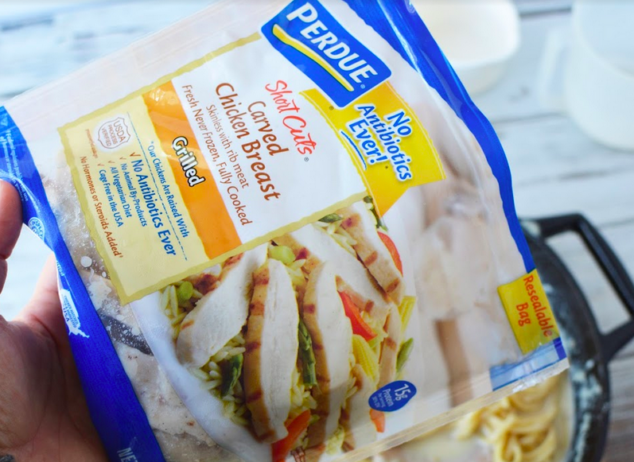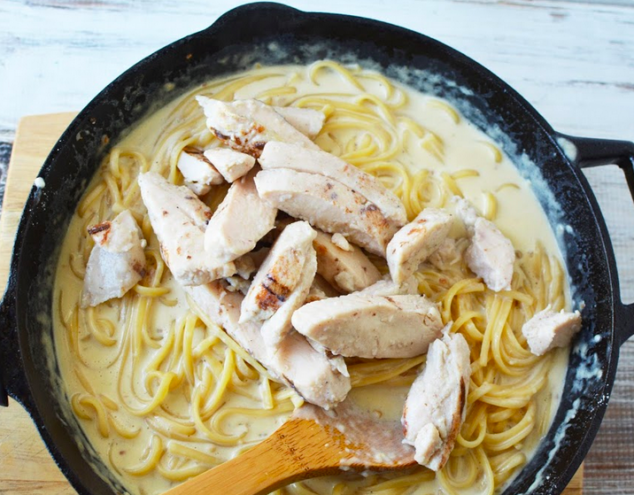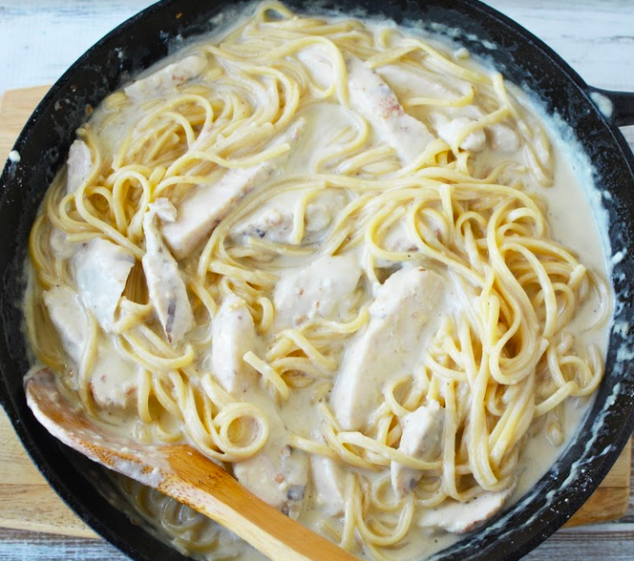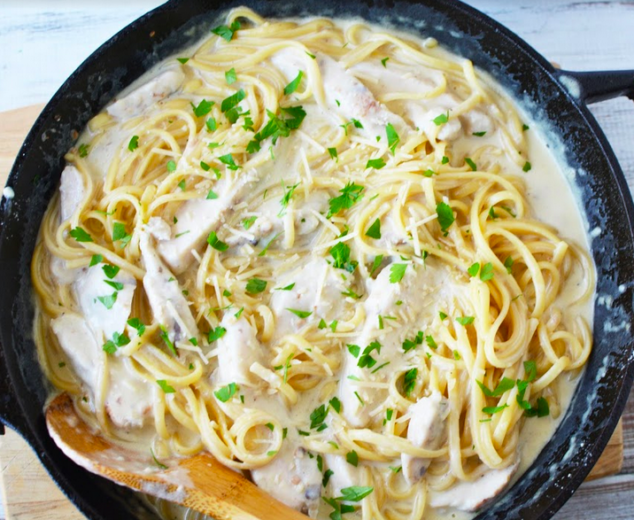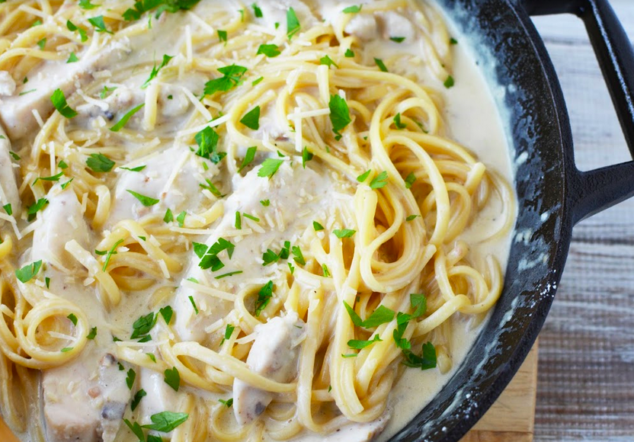 I mean… could you dive right in? Looks incredible, right? It's so creamy and so yummy and so delicious! This will be a staple you make all the time. I promise you won't regret this recipe for a second! It's DELICIOUS!
I also have a bunch of other recipes on the blog, too with the main ingredient being chicken:
As many of you know I'm working with Perdue Farms as one of their ambassadors. I would love to share with you about
Perdue Farms and their history
. They have an incredible team and this family is truly committed to making sure they are delivering the best product to your family and your tables.