Our neighborhood is participating in the great Neighborhood Scavenger Hunt – Teddy Bear Style! I had been seeing people talking about it online and thought it was so cool. Then I received an email from our neighbors saying that they wanted us all to participate in one, too. We jumped at the opportunity because our Victoria (who is 6) was so excited to do it and go on the hunt, too.
Neighborhood Scavenger Hunt – Bear Hunt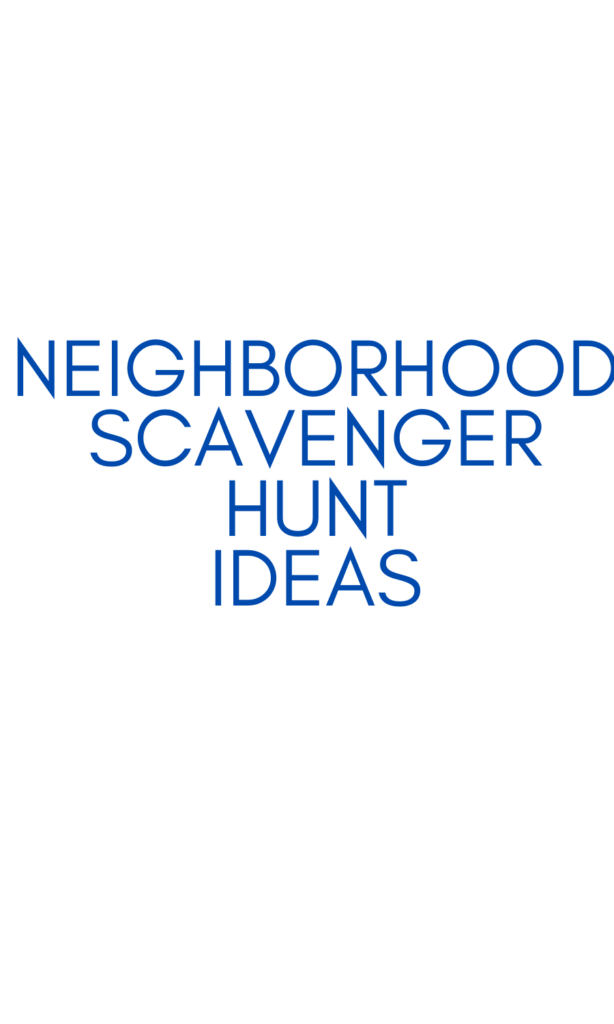 One of the silver linings throughout this entire craziness has been being with my family more and more. Are there times we drive each other crazy? You bet, but that's normal. There's 7 of us here, so it's bound to happen. Personally I love activities that we can do together and this neighborhood scavenger hunt is one of them.
I don't know how it is in other areas, but in our neighborhood everyone has been asked to take a teddy bear and pop him/her in a window out front. We all send our addresses to a common email so everyone knows who is involved in the neighborhood scavenger hunt and then we go off hunting with our little ones. I know that this was meant to be a neighborhood scavenger hunt for kids, but I'm having just as much fun.
We got from house to house in our neighborhood looking for the teddy bears in the windows! I was so excited to see so many of our neighbors get involved and be part of the fun! Our kids – especially are younger ones – are confused right now as to what is going on, so it's nice to have activities for them to be involved in and get excited about.
How can you start a Neighborhood Scavenger Hunt?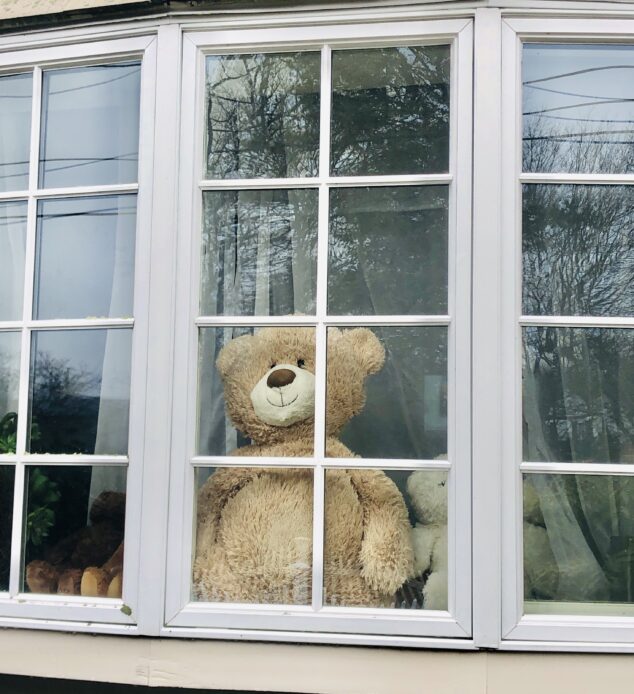 1. Come up with a fun theme. As I mentioned above – we're doing a Teddy Bear Scavenger Hunt right now in our little neighborhood. It's specifically fun for little kids. You could do any theme, though! I've seen people doing hearts on doors to thank the healthcare providers. I've seen people doing shamrocks for St. Patrick's Day. I've seen people doing Christmas lights, too (which we've done!). It's just really fun to come up with a theme.
With Easter around the corner you could do something with eggs or bunnies or pastel colors. With spring finally here you could do something with flowers or umbrellas. You could even do a neighborhood scavenger hunt birthday party theme! Maybe balloons or streams at homes of people with birthdays! It's all in the fun of creating whatever it is that you can come up with and to bring some smiles to families!
2. Get the word out in your neighborhood. In order to have a successful hunt you need to make sure you have other families on board with you! Send out emails to everyone in your neighborhood to share with them what you're planning on doing. If you don't have email addresses, drop a little invite in the mail. It doesn't have to be fancy, just something to let them know the details.
Make sure you include – when the Neighborhood Scavenger Hunt will begin and what the theme will be. Also make sure you tell everyone who wants to be included to let YOU KNOW so that you can write them down on the master of list of homes involved. This important for the hunt!
3. Send out a Neighborhood Scavenger Hunt Printable for people involved to know who is involved. My advice? Try to get a aerial view of your neighborhood. Circle all of the homes that said yes to being part of it. This way any families that will be taking part in this fun excursion will know!
It's fun seeing all of the families who say YES! I'm always amazed to see how many families say yes and get excited about it. I feel like (especially right now) so many of us are looking for easy activities to do with our kids that this is just a real fun and doable ones. This just is an easy one for all to do in their areas.
4. Place your teddy bear out front. The next step after you confirm when you will start your hunt is to get your teddy bear ready for business! We put our teddy bear in our front window so people can easily see him. My daughter also decided to add 2 more next to him, so we have three bears!
When I walked around the neighborhood with my daughter she got so excited seeing bears! She lit up and pointed! She actually wanted me to take photos every single time we spotted one, too! It was a fun 45 minutes of walking around with her. The good thing is that you can do this hunt over and over. We did it again the other day, even though she knew the houses ahead of time. It was still fun!
I encourage you to do something for your neighborhood or if you get word about it, get involved. Even if you have older kids that aren't at home any longer remember the little ones who get excited about something like this. I can even share some ideas for adults, too later! I think the more we can bond and bring together ideas for all of us to do right now, the better!
Have some fun with this one and do what you can to bring some joy and happiness to people right now. Scavenger hunts are activities that people have been doing for years and years and years, bring this to the people in your life right now. I know I was excited to see a few people in our neighborhood take the reigns and run with this idea! We also had been getting together for neighborhood clapping where we applaud the healthcare providers.
I love sharing additional ideas as to what we can all be doing during the spring months. I shared 101 things to do in the spring with the kids and (of course!) scavenger hunts were on this list, but there are 100 other ideas, too!
Make sure you check out my latest online "party"! Vera Sweeney and I are hosting THE RESET, a digital lifestyle show for moms and dads out there navigating this new world!