This butterfly bun hairstyle is the cutest hairstyle for girls. This easy bun hairstyle tutorial is one that is easy to do on anyone with medium or long hair. It's a fun hairstyle for girls for school.
Butterfly Bun Hairstyle
When it comes to spring hairstyles, this butterfly bun hairstyle is the perfect go-to for your child. I love finding hairstyles that will work for certain seasons and this butterfly hairstyle is just perfect. I know that there are certain butterfly styles like a butterfly braid and butterfly ponytail, but this is the butterfly bun.
It's a super simple and easy hairstyle to do. It's one of those styles that once you get it down, you'll be able to do it again and again and again. I'm all about sharing hairstyles that aren't too difficult because (honestly) who has the time? All of my hairstyles can be done in minutes. None of them take an extended period of time.
How to Do a Butterfly Bun Hairstyle
I'm going to walk you through this easy bun hairstyle. My advice for you is to watch the video first and then walk through the hair tutorial steps below it.
View this post on Instagram
Steps for Easy Butterfly Hairstyle
Here are the simple steps for this hairstyle for girls for school:
Put hair in a ponytail – make it in the middle your head
Pop an elastic a couple inches down
Do an inverted flip through the gap (see video)
Squeeze and flip it into a bun
Take the tail and twist it
Twist the tail up and secure into place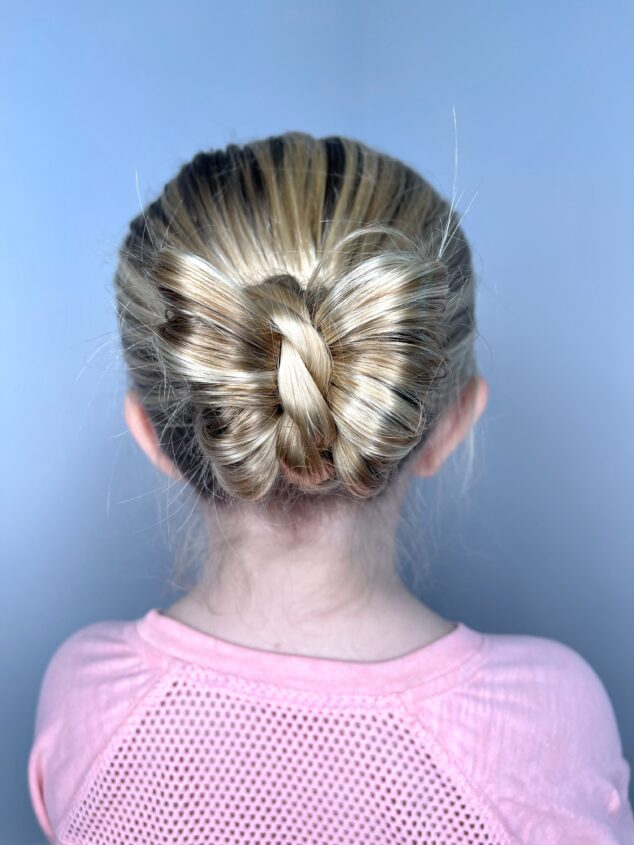 This butterfly bun is one of my favorite hairstyles for Victoria. It's a hairstyle that really did well on TikTok, too. We had over 2 million views on this one.
Also – If you want a good tip, the dirtier the hair is – the better. It seems to keep it in place better. I prefer this on her because that's the texture of her hair.
Everyone keeps asking us about our favorite products – I created a FULL post on My Favorite Hair Products. I share how we get her hair so shiny and smooth, too.
Check out my 20 Easy Hairstyles To Do Yourself. This one is a FUN one to follow and check out!
Also, follow me on TikTok and Instagram for daily hair inspiration!