Looking for the best green hair dye products? There are many on the market today that can help you achieve your green hair dreams. There are many factors to consider when selecting green hair dye, including the color, smell, and how long it will last in your hair. In this blog post, we'll explore the 7 best green hair dyes so you can find the one for you!
Best Green Hair Dye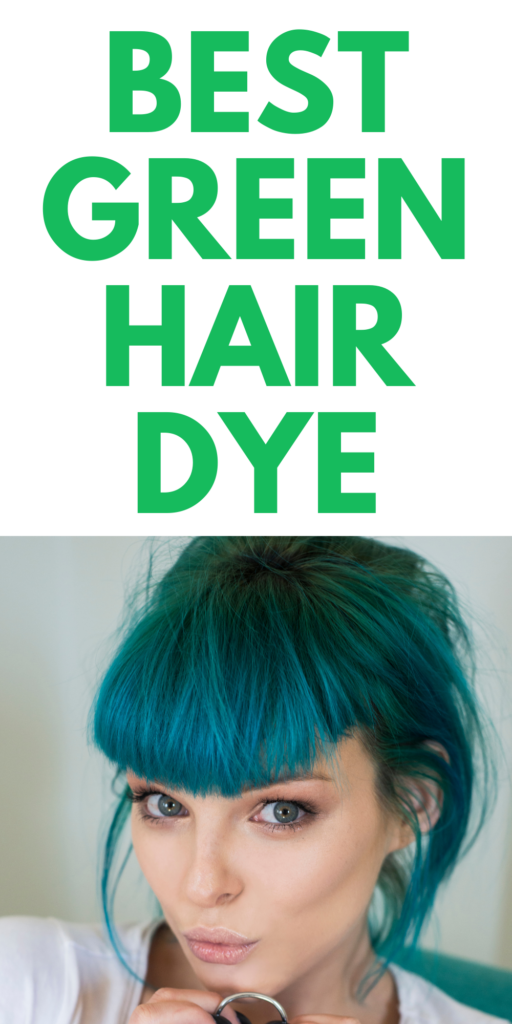 The cool thing about semi-permanent hair dye is that it works on all different hair types. Not to mention, it's a semi-permanent dye, so it's not permanent. It will either wash out in a few washes or stay for a few weeks. The fun part of dying your hair is that you can easily change your look for the time being and if you're not happy with the results, you can change it back. Nothing is set in stone forever.
Let's talk green hair dye today. The best result when you're going to dye your hair green is finding a semi-permanent color of green that you love. There are different shades of green hair dye, so make sure you know if you want to go with a lighter shade or a darker one. Green hair won't work for everyone because you need to keep in mind that if you have dark hair, it won't show as bright and vibrant as it will on light hair or straight blonde hair. Also think about your skin tone and what shade you will work best, too.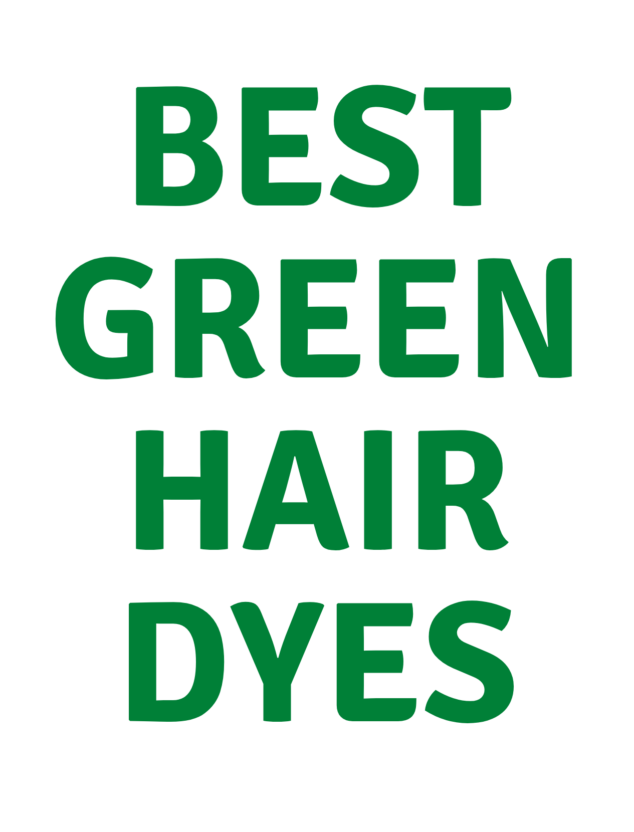 There are always new shades of green coming out, so you can really have some fun to find one that will work best. If you don't want the green to be a bright color, that's fine, just fine a warmer shade. The green color will also take to your hair differently with darker hair and lighter hair, so it's always important to do a patch test before you get going. Maybe you'll think about doing something really cool with green cool undertones. Your hair can be your canvas for fun.
There are a bunch of semi-permanent hair color dyes for green hair for you to choose from when looking to color it. I'm pretty boring when it comes to dying my hair, I stick with blonde. But it's fun to find some vivid colors and even some fantasy colors for you hair. As you're on the hunt for the best green hair dye, it's cool to think that it's just going to be a fun color in your hair, especially if you're dying around Halloween or St. Patrick's Day.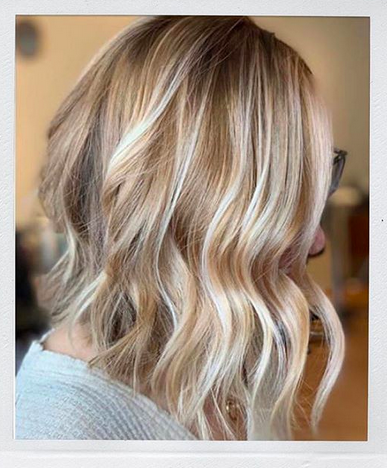 Before you get going on your green hair dye hunt, make sure you know what you want and don't want. If you want to stay away from any harsh chemicals, make sure to find dyes that don't have any in them. I'm not sure how many semi-permanent green hair dye options would have vegan ingredients or natural ingredients, but that's something to think about if it's important for you. You want to make sure you have the right products. I'll make sure to share some options below too for the best green hair dye in that category.
Manic Panic
Probably one of the most popular places to purchase a vibrant color for your hair. It's always a good idea to check them out first. The great thing is that these dyes won't last a super long time, but just long enough for you to get out of it what you want and desire.
Right off the bat, you'll see that they have options in neon green, dark green, or your basic green. You have the ability to really see what shades will work the best for your desired look by the images they share. Two recommendations that would work well for the best green hair dye:
Electric Lizard Green Hair Dye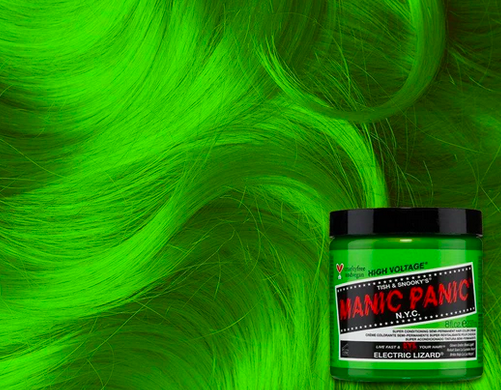 Electric Lizard is a bright, neon green hair dye that looks as electric as it sounds. With vibrant, lime green hues, this shade glows brightly under black lights! For best results, we recommend lightening your hair to the lightest level 10 blonde before use.
How many 8oz containers of Manic Panic hair color should I buy?
Short Hair up to Bob Length: 1 jar/bottle for thin or thick hair.
Below the Shoulder up to Waist Length: 2 jars/bottles for thin hair and 2-3 for thick hair.
Tailbone or Longer: 3 or more jars for thin or thick hair.
This will work well on light blonde to dark hair.
Green Envy Green Hair Dye
Green Envy is a deep emerald hair dye with a very slight blue tint. One of our most vibrant shades of green, this dye can add verdant highlights to virgin, unbleached hair, but we recommend using this shade over hair that's been lightened to a light level 8 blonde or lighter.
How many 4oz containers of Manic Panic hair color should I buy?
Short Hair up to Bob Length: 1 jar/bottle for thin or thick hair.
Below the Shoulder up to Waist Length: 2 jars/bottles for thin hair and 2-3 for thick hair.
Tailbone or Longer: 3 or more jars for thin or thick hair.
This Manic Panic semi-permanent hair dye is formed from high quality ingredients and as a result is certain to give you high quality hair color! It is also completely vegan friendly and PPD free, so you can use it safe in the knowledge that nothing bad is going into your hair.
Another fantastic thing about Manic Panic is that even though it's temporary dyes, it's long-lasting. Don't forget to take a look at all of the selections, they have great ones!
Overtone Green Hair Dye
Looking for a perfect shade of green hair dye? Overtone is going to have you covered. They make the coloring process easy, too… which is very helpful if desiring vibrant results. It doesn't matter if you have shorter hair or longer hair, these green hair dyes will look perfect on you.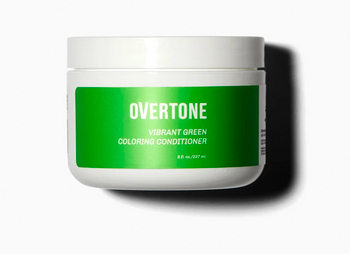 The cool thing about what's offered at Overtone is that they have bright shades, dark shades, and even pastel mint green. It's just that instant, easy color change for your hair that you will love and enjoy.

Product Info: Vibrant Green
Contains: 8 fl. oz. (full size), 2 fl. oz. (strand test/sample size)
Perfect For: Achieving Vibrant Green hair color on platinum or light blonde starting shades.
Made With: 100% vegan, cruelty-free formula
Effective On: All hair types and curl-friendly
Free Of: Ammonias, parabens, and sulfates
Mixes Well With: Blue, Teal, and Yellow
Best Results: Starting shades of light to platinum blonde
Iroiro
If you're near a Sally Beauty Store, you can pop in and find this brand and color. This is more of neon green, so it's super bright and bold. This is a great semi-permanent green hair color for brown hair, too. You're going to get that green look that you desire and it will pop! They do offer a darker shade of green, too. Like all the others that I've shared over, this one doesn't have any harsh chemicals either.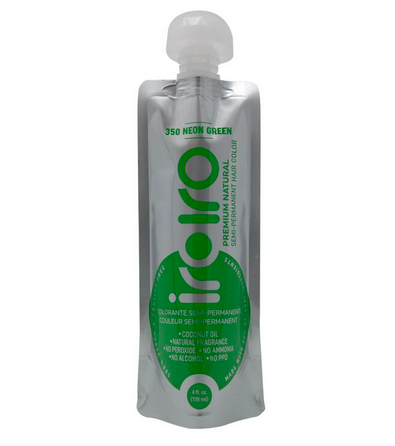 Neon Green Premium
What is it?
Iroiro is a 100% vegan and cruelty-free semi-permanent hair color. Most vibrant and long-lasting, iroiro color proves that natural does not mean color will fade quickly. Available in a 4oz eco-friendly spout pouch with tamper proof cap.
As well as coloring your hair, Iroiro provides your hair with the nourishment it needs to stay healthy – which is especially important when it comes to coloring your hair – thanks to the natural coconut oil in the ingredients, which helps to keep your hair moisturized throughout the coloring process. Here's a list of harsh chemicals WE DON'T USE in our products: PEGs, Paraben, Methylisothiazolinone, Methylchloroisothiazolinone, Synthetic fragrances, Peroxide, Ammonia, PPD, Alcohol.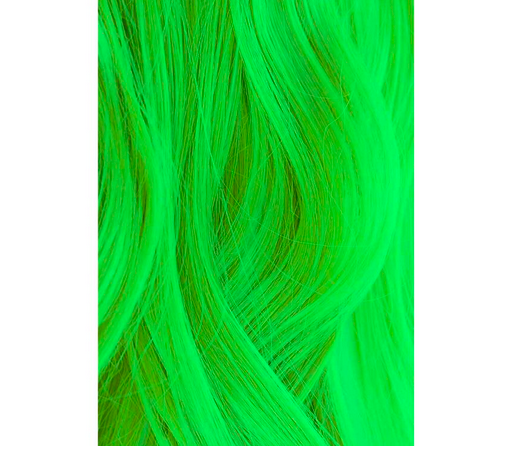 What makes it special?
Made with vegan, cruelty-free ingredients.
Made in the USA.
Iroiro is made with coconut oil, natural yuzu-cranberry fragrance, and preservative.
Contains no harsh chemicals such as peroxide, ammonia, alcohol, PPD, and synthetic fragrance.
The hair color is cream-based which means you simply have to massage it in. Our main ingredient, coconut oil helps to restore dry or damaged hair
4 oz
AURA
Another great option is AURA. This one works best on lighter shades of hair, but you can still see a shade of green if you have brunette hair. It's more deep green pigments. There are so many different colors when it comes to finding that perfect green shade, so the best thing to do is look around. This one below is a good one because you can transform your hair in ten to fifteen minutes and it just washes out over time.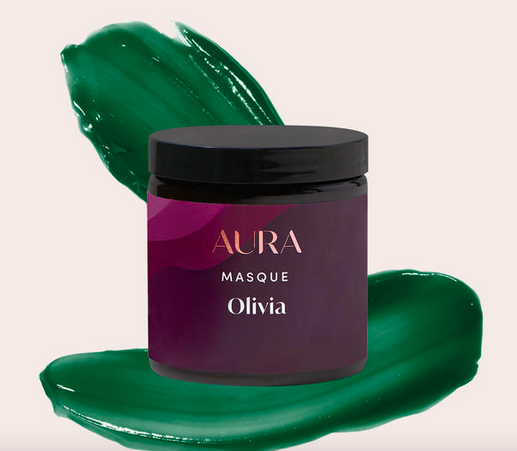 Personalized Hair Care
Achieve an enchanting Baltic Green Fantasy shade with our personalized Baltic Green Masque that is formulated based on your exact hair goals and needs. Choose a Soft, Vibrant, or Bold Baltic Green temporary pigment when you take our Quiz to develop your personalized Masque.
Arctic Fox
I feel like Arctic Fox is just as popular as the other brands. They're an amazing brand it help you transform the color of your hair. The share I recommend is Phantom Green. It works well with lighter hair colors, otherwise it will be tough to disguise in dark hair… but it's still doable. As you can tell on this one, too there are hair-healthy ingredients.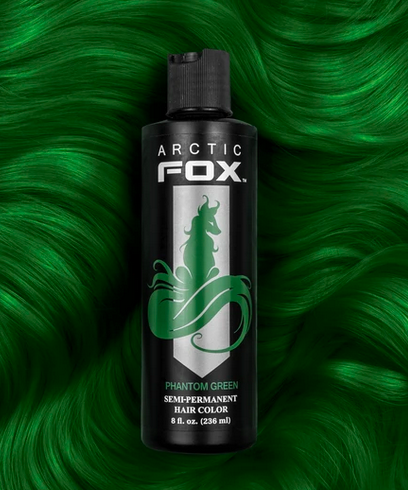 DIY Formula
Hydrating + Zero Damage
Best Results With Pre-Lightened Hair
No Harsh Chemicals (Peroxide, Ammonia, PPD)
Always Do a Patch & Strand Test Before Coloring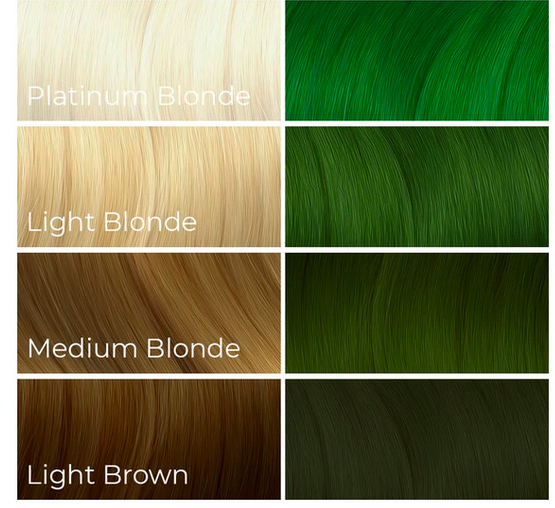 Get in tune with Mother Nature herself with Phantom Green! This deep forest green will show vibrantly on pre-lightened hair, but will give darker hair a subtle emerald tint. Phantom Green has strong blue undertones, so it will often fade to more of a deep blue shade, especially on very light hair.
#AFProTip: For more of a jewel-toned emerald or teal, mix Phantom Green with some Aquamarine!
Green Hair Color Spray
Here's a super-easy way to dye your hair green. You don't even have to think about it and you can do it on dry hair. This is something you could do for frequent use. You'll get a bold shade on this one and you will think works really well with the fun color change. The cool thing about this one is that it doesn't take rocket science to work it, you just spray away!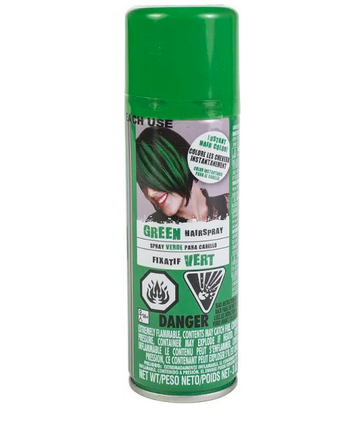 Color your hair quickly for a vibrant look with this hair spray
Spray form helps provide an even and easy application
Its non-damaging formula colors your hair without causing any harm
When it comes to dying your hair green, it's something you need to be committed to. It's a bold color and one that will definitely get people's attention. Green isn't usually a color people go-to for everyday use, it's more of a fun and creative color to go with.
If you're wondering what the color green symbolizes, according to Wikipedia… Green is the color most commonly associated in the United States and Europe with springtime, freshness, and hope. Green is often used to symbolize rebirth and renewal and immortality. Maybe there's something in your life that is bringing you down and you need a little renewal, or maybe you just want something FUN in your life, either way, you can't go wrong!