Looking for cute Christmas Hair for Little Girls? I'm always on the hunt for easy hairstyles for my daughter. When it comes to special occasions, it's definitely the holiday season. I'm all about Christmas hairstyles right now because it's DECEMBER! It's time to do beautiful hairstyles when it comes to this festive time of year.
Christmas Hair for Little Girls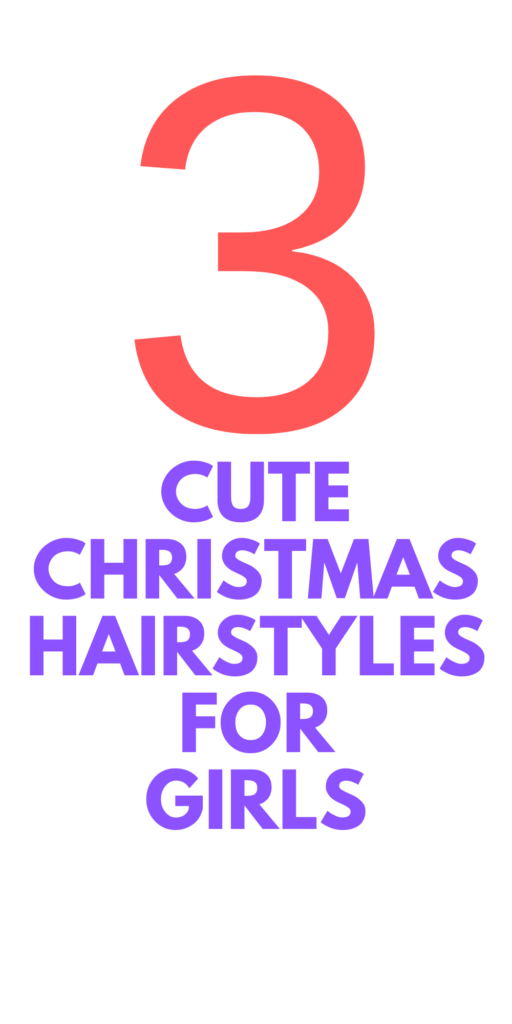 When you have little kids, it's fun to be able to do some cute Christmas hairstyles on them. You can do a side braid, a french braid, rope braids, side bun, pony tail, braided bun, bun hairstyle, top knot, goddess braids, messy bun, or a perfect half up half down style. The second you add some Christmas hair bows, your child's hair goes from basic to festive in seconds! There are so many cute hair accessories and hair clips for kids. My daughter has about 20 girls hair bows that we use on her hair and I love every single one of them!
If your child has long hair, you can really have some fun with holiday hairstyles for girls. Not that you can do them with short hair, but it does help if you have long hair to be able to create some really cool toddler hairstyles and little girl hairstyles (even teenage hairstyles, too!). Since I've been sharing Christmas Hair for Little Girls, I've found it so much easier (in a fun way) to make these hairstyles work with longer hair.
Are you ready for me to share some cute little girl hairstyles for you to do this holiday? Here are some of my hair idea requirements for hairstyles for younger girls:
Make sure you have bobby pins, hair ties, and an elastic band pack
Nothing with extra stress attached to it
You don't have to be an expert at braiding to make a cute hairstyle
Find hairstyles that can be done in less than five minutes
Make sure you have an activity for your child to do while you're creating. This is a great way to keep them occupied.
While looking for simple hairstyles, add these into your beauty regimen when looking for Christmas Hair for Little Girls. The first thing to do is make sure you have the hair brushed smoothly. I love to use a leave-in conditioner in Victoria's hair (and my hair, too!) before I get going. It's easier to brush it and keep it styled that way too with all of the tangles out.
My favorite leave-in conditioners are:
Side Bubble Ponytail with Red Ribbons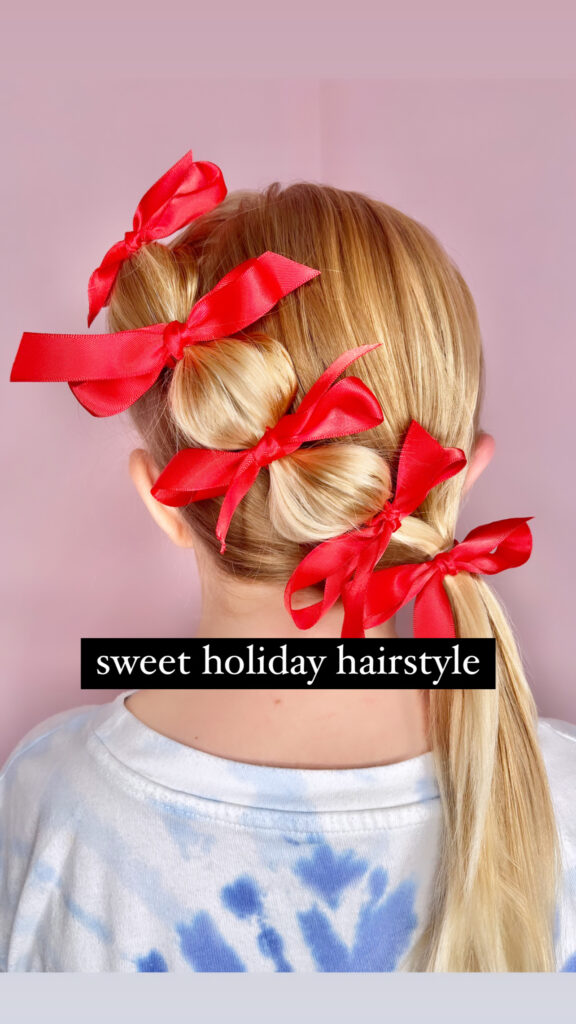 This one is a great one because it doesn't take much effort. This is one of the best hairstyles to do because it's so easy, but it comes out so cute! Have your little one wear this one during the Christmas season, it will be a showstopper. What I love about this hairstyle is that it gives an elegant look, but also a super cute look, too. I feel like this one is great for the little one, just keep it real here.
How to create this style Christmas Hair for Little Girls
This one is simple to do. Take a section of hair and elastic band it off on top. Then take 3 or 4 elastic bands and add them a few inches apart down the section of hair. This will vary depending upon how long your hair actually is. On Victoria, I can add about 4, but on myself? I can only add 3. After you've added in the bands, carefully bubble the sections to make the bubble braid. Don't pull too hard or it will come out, but pull hard enough where you create an adorable bubble.
View this post on Instagram
What I love to do is then go back to each of the elastic bands and add ribbons right on in! I love the red because it gives such a fun flair for the holidays. The best thing about this hairstyle is that you can add in any kind of bow color or pattern and make it work year-round for your child. It's a great choice when you want to create a cute hairstyle, but just aren't sure what to do. This looks super cute in a toddler's hair, too.
Peppermint Wrap Bun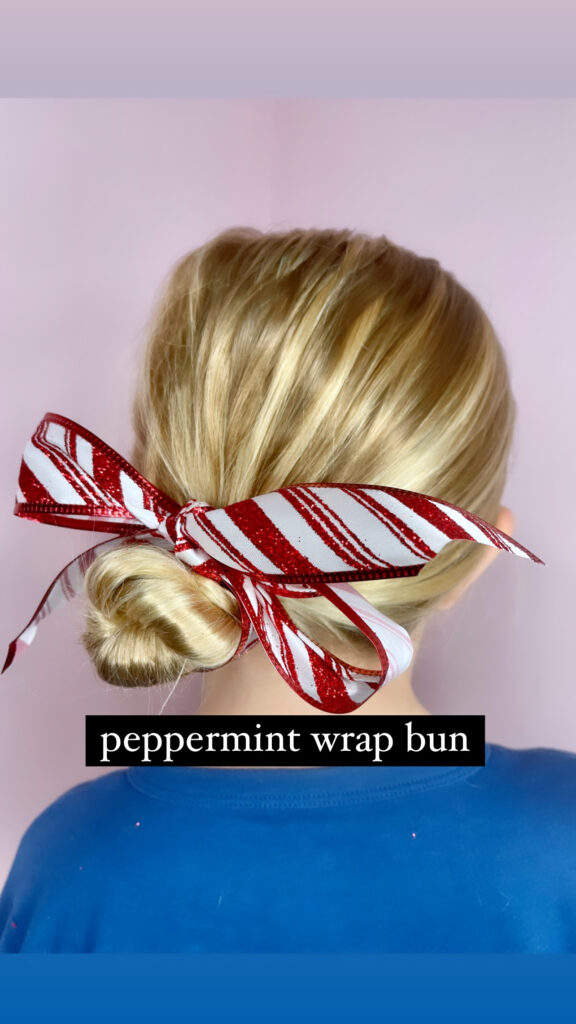 This one I call a peppermint solely because of the ribbon I have tied around it. It's such a cute wrap bun hairstyle and it's a beautiful hairstyle to wear to a party. You could also wear this on business days because even though it's a fun hairstyle for girls, you could rock this elegant style with a sophisticated look at the office, too. It's just one of those cool hairstyles that works for anyone, at any age. I just love that it's a simple bun with a fabulous bow attached!
How to Do this Christmas Hair for Little Girls
View this post on Instagram
I prefer to do a wrap bun for this because it's just easy to do, but you can make ANY kind of bun work that you're comfortable with doing. As you can tell, Victoria has long hair, so creating a bun on her is easy to do. I love how it comes out once it's done. I then take the peppermint-themed ribbon and do a big bow around the bun. I love this look because it almost looks like a cute holiday package, too. This is a perfect hairstyle for a child during the holiday any day of the week.
Easy Holiday Ribbon Braid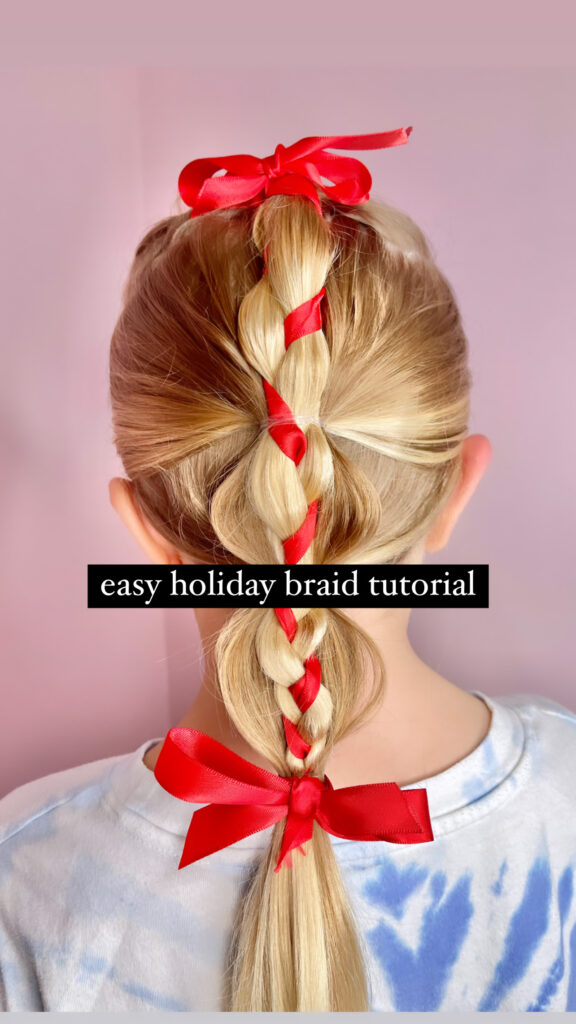 This is a really cute festive hairstyle during the holidays. I know that the holidays are a busy time, but I promise that this hairstyle doesn't take too long to do at all! I even start with damp hair just to make it that much easier on myself, too. Make sure it's not wet hair, but just by dampening it a little, it will work better for you as you're creating it.
How to do this Christmas Hair for Little Girls
I start with a section of hair elastic-banded on top and I simply add in a ribbon. Then I take the ribbon and use it as one of the strands and create a three-strand braid all the way down. After I've done that, I then start pulling in sections of hair down the head, elastic banding them off as I go. You will easily see what I'm talking about in the video. Take your time with this step and don't rush through it! I will then go back and carefully pull at the braid and the sections to give it a little extra volume.
View this post on Instagram
This is one of those childrens hairstyles that are so super cute when it's done. You won't be able to do this one with shorter hair, but you can try to do a modified version of it. This works best with medium hair length and long hair. I do this one for so many of the different holidays because I know Victoria loves this one. It's great for an everyday look or if you're just looking for new hairstyles to try out. I'm all about finding gorgeous braids that I can do that aren't intricate hairstyles. I know we don't have extra time in the morning to do hair, so anything that is quick and easy, I love!
I hope these hairstyles work well for you and that you will find a few that you love. Christmas time is such a fun time of year to create some little girl's hair fun and I can't get enough of finding holiday hairstyles for girls that are so cute and fun to create. Some of these you can do on your own hair, too… so don't be afraid to have some fun!
Hair Products I Love to Use
I'm always asked about the hair products that I use on Victoria's hair, so I wanted to make sure I shared a few items that are must haves when it comes to creating some of these hairstyles here, and most of the ones I have on our social media accounts. There isn't a "right place" to buy these, but I will provide links as to where you can get them at the best price points.
Small Rubber Elastics: I have found that these are the best when trying to create hairstyles on Victoria. These work well on baby girls and girls' hair. I love that you can create ponytails and braids and not worry about the elastics falling out. I love to get these here, and they only cost about $6 for like 1200 of them! It's amazing. You also can choose whether you want clear or colored.
Topsy Tail: This is a great tool for creating the "flip throughs" on the hair. This also cuts down on hurting your child's hair when you're trying to separate out the strands, too. I'm a BIG fan of a topsy tail and they are super cheap, too!
I linked my 2 favorite detangling spray options above, too. I love that it's in a spray bottle and easy to use on your child's hair, too.
Make sure you follow me on Instagram and TikTok where I share hair tutorial videos daily with me and my daughter. We love sharing super easy tutorials for moms.