Looking for an easy hair tutorial? I've got a great messy top knot hairstyle for you to try on your long hair (this won't work on short hair).
Messy Top Knot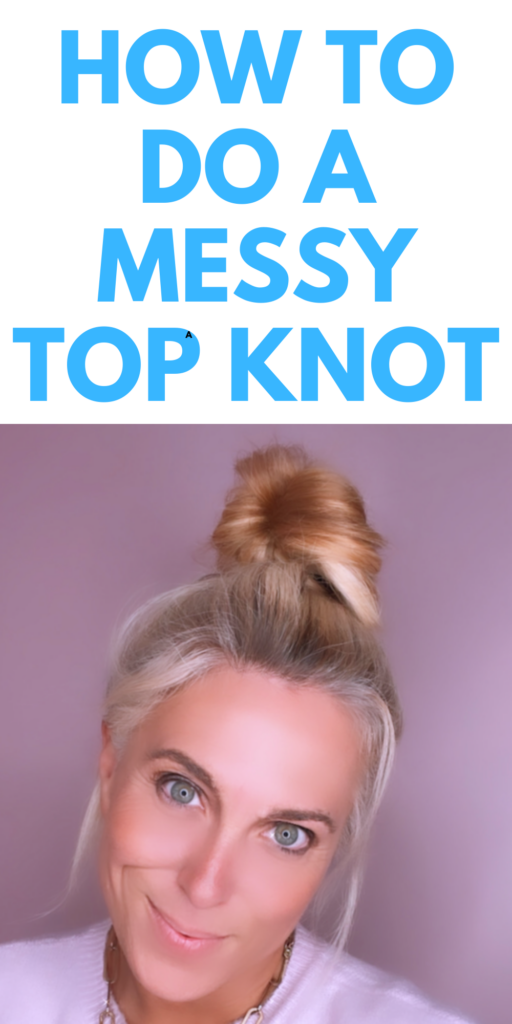 I'm someone who loves a hairstyle on the top of the head because it's just an easy way to have your hair out of your face. The good thing about a messy top knot is that regardless if you have thick hair, fine hair, curly hair, or thin hair, it works. You can do this one with a variety of different hair types. It's a cute look and an easy hairstyle to do with dry hair or wet hair.
The good news is for this particular messy top knot, you only need a hair tie, actually two of them. There's not much needed beyond that unless you want to grab a few bobby pins just to tuck in some flyaways or loose ends from your hair. Before I do any hairstyle (if my hair isn't clean), I will use dry shampoo on my hair. It's always a good idea to use it before any hairstyle.
How To Do a Messy Top Knot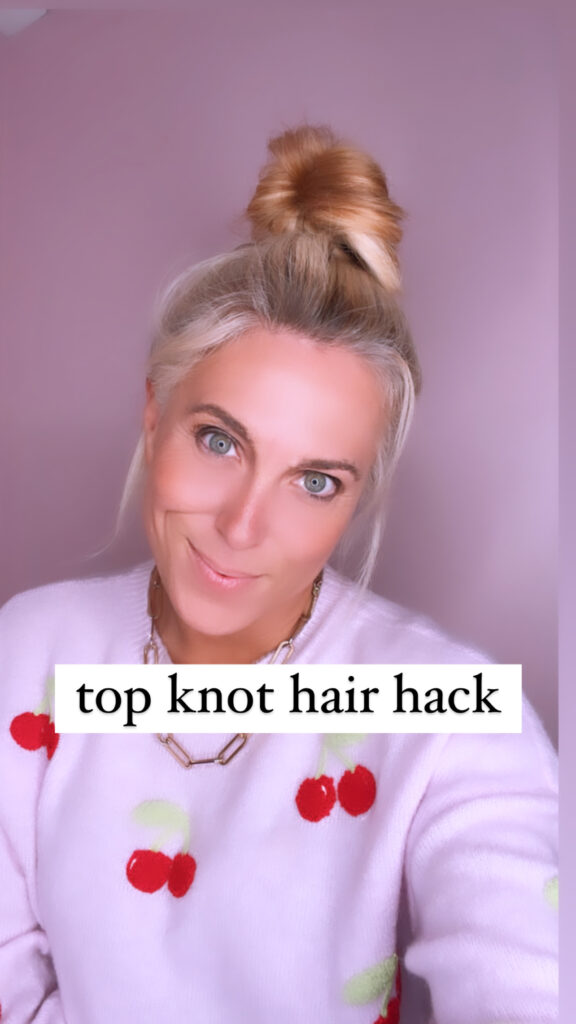 I'm a lover of a high ponytail and high bun. I just think the look is elegant, pretty, and cute. I love that it's the kind of hairstyle that you can dress up or dress down.
Creating messy bun hairstyles is fun because it's an easy way to make it look fancy or chill. It's all about finding different styles that work for you and your different looks. I just love a messy hairstyle because it's an undone look that looks fabulous.
This is how to create this easy hairstyle. Now I'm doing this hairstyle with straight hair, but please remember that your hair can have a wave or curl to it and you'll still be able to accomplish this look. This messy top knot bun is one of my favorite styles to do for any kind of occasion. There's just something about messy hairstyles that are chic to me! There are so many different ways to create a messy top knot, but this one is an easy hair hack for you. 🙂
View this post on Instagram
Start with a HIGH ponytail. Make sure all of your hair is up, if you need to use bobby pins to keep some of the lower hairs up, by all means, do that. I need to do that, too.
Pull your ponytail forward and take a hair elastic and tie it a few inches from the bottom.
Take that section and twist it and then fold it over the base of the ponytail.
Tighten up the section in the back.
Play with the bun a little bit on the top of your head and create it the way you want it.
I have to say, you'll be able to create a perfect messy bun in no time with it! I just love this easy hairstyle and how it comes together. I had someone message me asking if they thought it would be possible to create a low messy bun doing the same kind of technique, and even though I haven't tried it… you never know!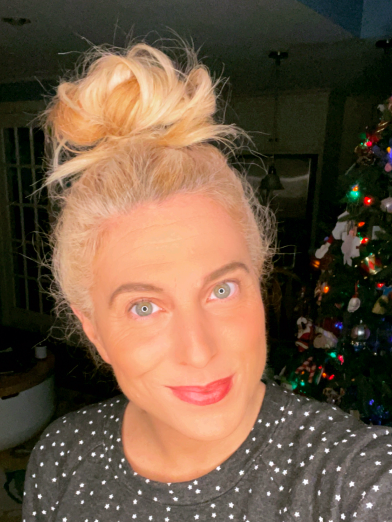 Also remember that as you're tweaking at the end, you can make this hairstyle a messy look. Just pull carefully on the sections so it doesn't come apart too much. This is the easiest way to create a fuller look and depending upon your hair type you can really make it as "messy" as you possibly want.
I'm all about creating hairstyles that are fun and easy to do. I'm a sucker for a fabulous messy top knot. There's something so chic about it to me. I also share a bunch of other bun hairstyles that I will share as well.
How To Do a Messy Bun with Thick Hair
Best Hair Accessories and Products
I love to do hairstyles on Victoria's hair and use elastics to keep it in place. It's important to get elastics that work when you're doing specific hairstyles. These are my favorite hair products to use on my hair and Victoria's hair.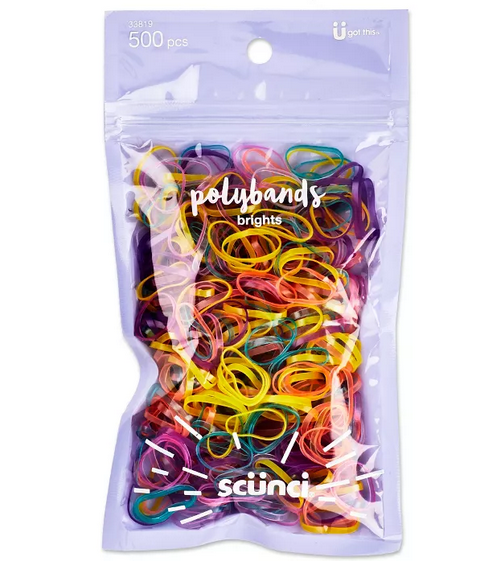 No Damage Colored Hair Bands – I love these because they're thinner and smaller, so they work really well on hairstyles. They come in a package of 1000 for about $6.00. You'll have these elastics for months and months.
My daughter's hair consistently gets tangles with small knots. I always need to make sure I keep it conditioned and brushed. Every morning I need to spray it to get it to be shiny, smooth and silky. These are my favorite hair products to use every single day.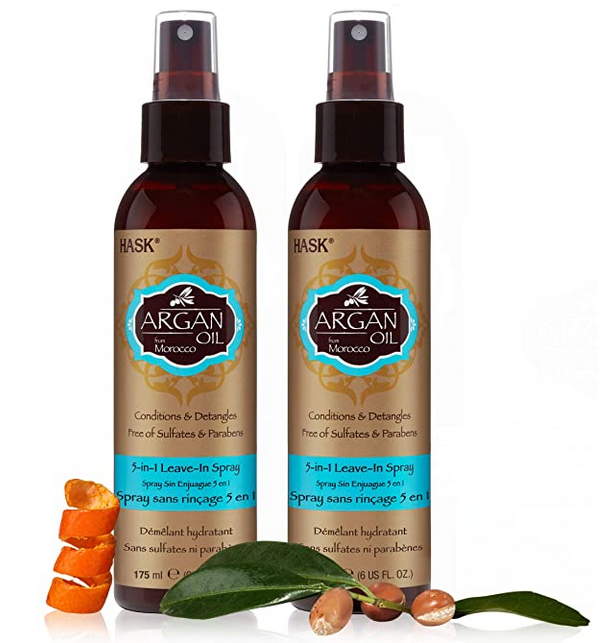 HASK Repairing ARGAN OIL 5-in-1 Leave In Conditioner Spray – I just bought this last week and I'm OBSESSED with it. First off – the smell is incredible and it works beautifully. This 5-in-1 Leave-In Conditioner penetrates the hair shaft, gently cleansing while it repairs damage and breakage, leaving even the most rebellious hair frizz-free, silky-soft and super glossy. It's color safe, gluten free, sulfate free, paraben free.
I'm all about finding the best brushes that work on styling hair. Victoria hates when a brush "hurts her hair" (as she puts it). I'm always trying to find brushes that will work well on detangling and smooth her hair easily. I like to use these brushes on my hair, too. These are my favorite hair products for brushing hair.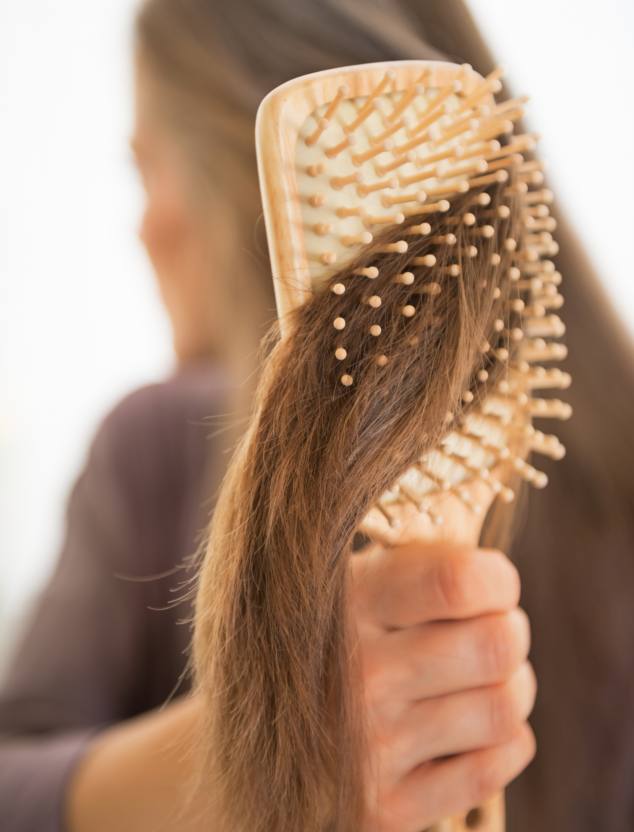 Detangle Brush – This is a great option when it comes to looking to detangle hair without it hurting. Great for all hair types and ages. Pain Free Detangling with this brush. Innovative and quality, the 274 flexible bristles will gently glide through knots creating less friction than ordinary hairbrushes, resulting in reduced hair breakage.
I will keep updating my favorite hair products in various blog posts, too! I think it's important to share the hair products that we all love and use and showcase that many of them you can get at incredible prices, too.
Make sure you're following me over on Instagram and Facebook, too!