I'm obsessed with a fishtail braid ponytail for my daughter. I think it looks so pretty and so cute, and it's easily one of my favorite hairstyles to do on her.
Fishtail Braid Ponytail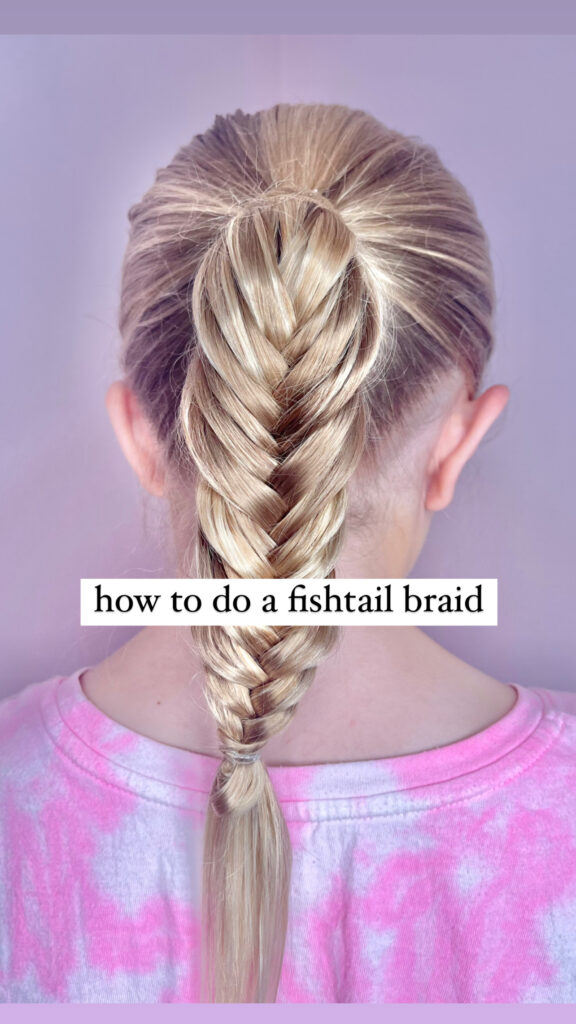 When I first started to learn how to braid, the fishtail braid was one I just couldn't seem to figure out from watching hair tutorials online. Everyone seemed to have different ways to teach it and I just couldn't follow along. I finally had a friend teach me in-person how to fishtail braid (thank goodness!) and now I could do it without looking!
You can do a fishtail braid on long hair or short hair, depending on how you're styling it. I've done a small fishtail as a half-up hairstyle to get the hair out of my face. I've done fishtail braids on my hair when it's styled off to the side. There are just so many fun and cute ways to one, but doing a fishtail braid done on the back of a high ponytail is just a really pretty style.
This braided hairstyle is a simple one to do if you follow along with the steps. The good thing is that its simple steps that are just repeated all the way down the ponytail. I prefer to do the high ponytail on the top of your head, but you could do this hairstyle on the right side or the left side of your head. I promise it will look adorable and cute wherever you place it! 🙂
Step Guide for a Fishtail Braid Ponytail
As you will see, a fishtail braid is not like a regular braid. To be honest with you, I feel like the fishtail braid is MUCH easier than a regular three-stand braid. It only involves 2 sections of hair and it's easy to work down the sections as you get the hang of the braid.
For the Fishtail Braid Ponytail, start with a ponytail.
Divide the ponytail into 2 sections.
You're going to take the right or left section and grab a small section of hair from the back and cross it over the front to the other side.
Then you're going to repeat this on the right section, too.
You will repeat this sequence all the way down the ponytail (make sure you're using equal sections) and then add a hair elastic on the bottom.
I like to go back and fan the braid hairstyle out to make it thicker, it really does make it look extra pretty and chic.
Hair Hacks for a Fishtail Braid Ponytail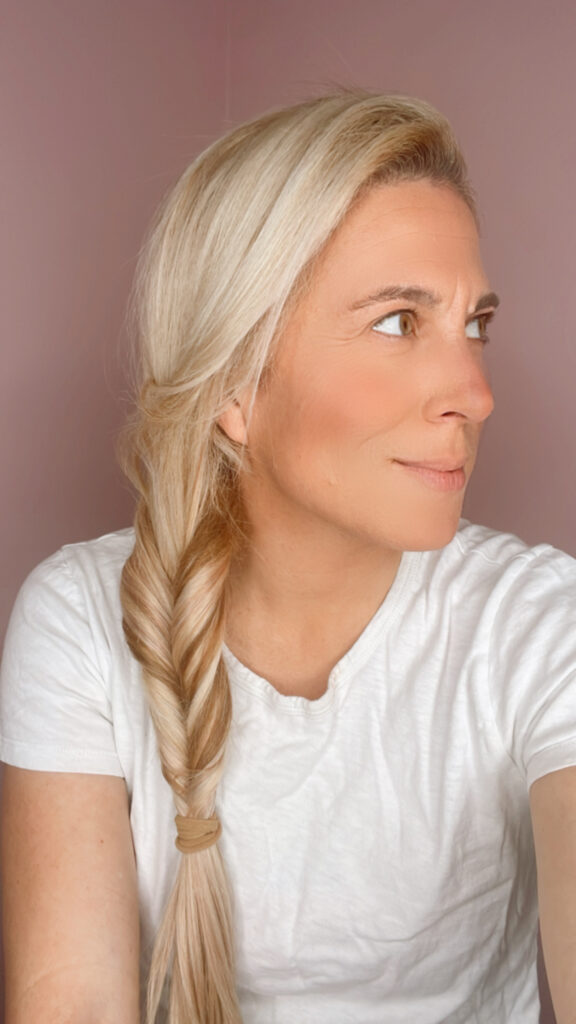 *If you want the sections to remain the same size, make sure the sections you pull are the same size throughout. If you want to mix it up a little bit and make it more of a boho hairstyle, you can take a bigger section here and there down the fishtail braid to mix it up with a smaller section. It ends up looking really pretty, too.
*When I say "fan" the braid out, it's more like expanding it all the way down the ponytaill. The more you pull, the more of a boho look and appearance you'll get. I love it when it's super thick because it gives it more of a messy look. I'm telling you, in a matter of minutes you will have a beautiful fishtail braid ponytail that people are going to love.
I love doing a ponytail to start the fishtail braid off with because all of your hair will be pulled up with it and you won't have any remaining hair hanging down. You might have a piece of hair here and there hanging down, but that's it and it really is the kind of hairstyle you can wear just about anywhere. You can dress it up for a function or you can wear it as an everyday hairstyle. I love that you can turn it into an elegant updo or just have it as a chill about the house one.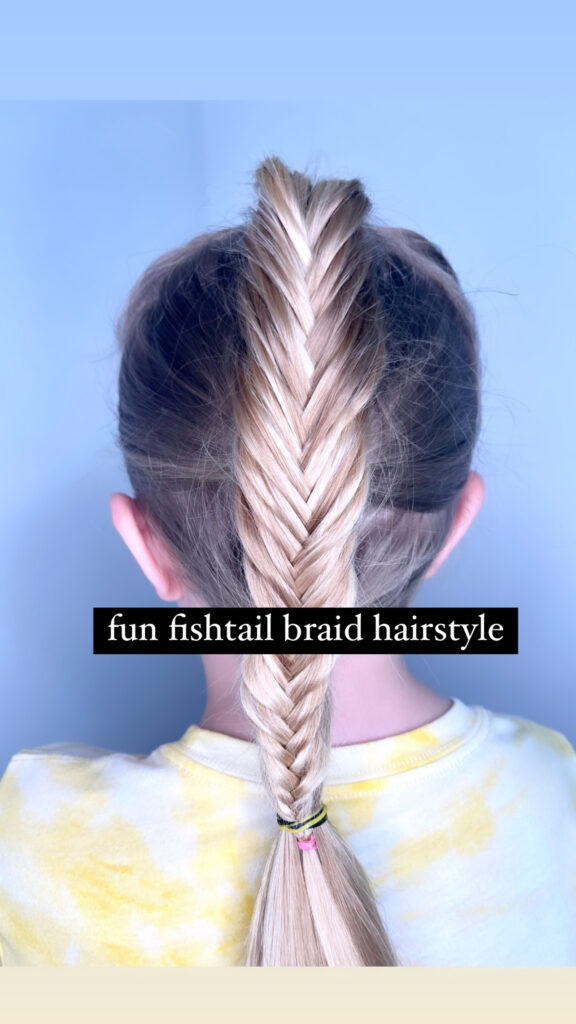 I hope this fishtail braid tutorial works for you. I know for this particular style you're going to need to make sure your hair length fits into a ponytail. It just makes this easy tutorial better to do. I also love using a clear elastic on the end because you can add ribbons or scrunchies to cover it up if you want to afterward.
I also think it's just an easy way and a good way to take a regular ponytail and turn it into something fabulous. The good news is that this is the kind of braid hairstyle that anyone can do as long as you get the hang of it. I hope this video tutorial helps you out. I tried my best to go slow and really make it easy for someone to learn from. I know it's not a true step tutorial, but I do try to break it down.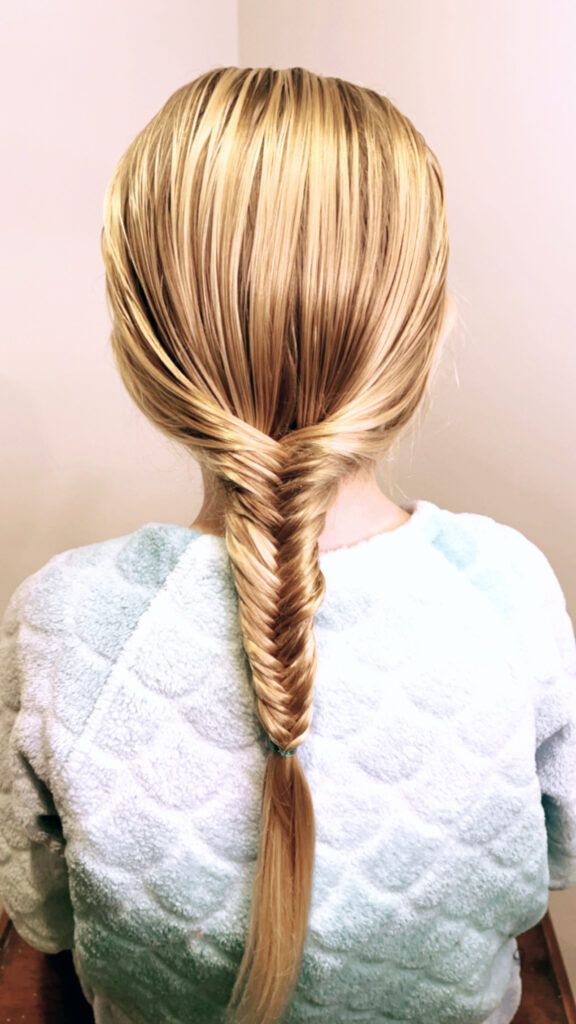 Also, a little hack I've learned while I'm doing the fishtail braid ponytail is to not do it on straight dry hair. I love to use a leave-in conditioner in a spray bottle and make sure the hair gets a good coating before I start braiding. I just think it helps the braiding technique work easier because the hair is smooth and easy to gather into small sections as you pull them over.
Enjoy this braided ponytail! It's a beautiful look that I hope you wear again and again! If you try it, make sure you share photos with me on social media of your fishtail braid ponytail. I love sharing the hairstyles that people send me on Instagram!
Easy Faux Fishtail Braid Hair Tutorial
Step By Step Fishtail Braid Tutorial