Looking for the easiest faux fishtail braid? I've got you covered with this simple hair tutorial. This is my go-to easy faux fishtail braid hair tutorial that I love doing on my hair and my daughter's.
Easy Faux Fishtail Braid Hair Tutorial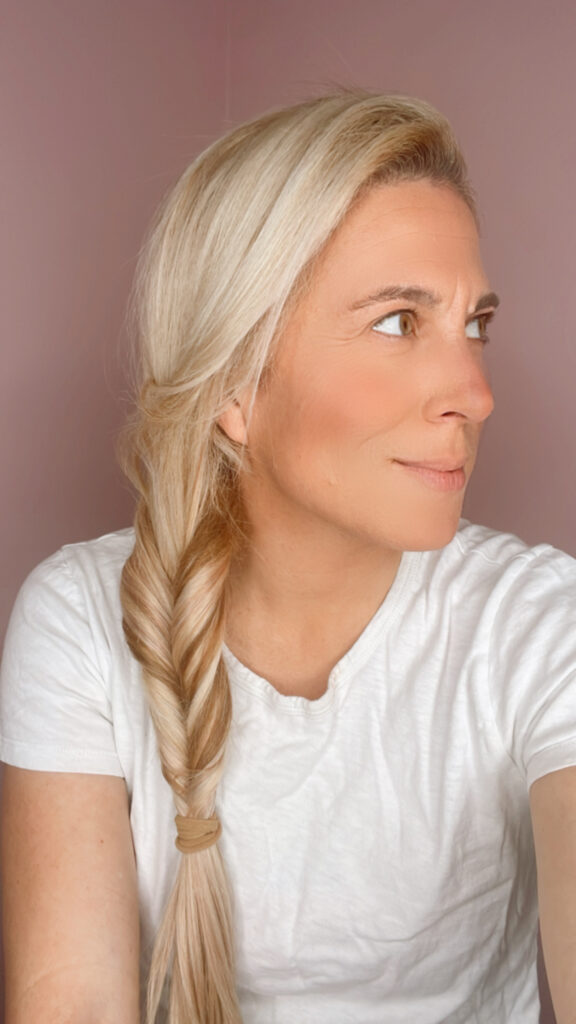 I'm all about showcasing a braid tutorial because I think braids are so pretty and work for anybody. I know that not everyone is great at braiding, so I love finding and sharing faux braids that look just like the "real" thing, but are a fabulous hair hack. Now I'll be honest with you, the regular fishtail braid is an easy braid to learn, but it does take a little time. This easy faux fishtail braid hair tutorial takes less than a minute.
For this particular hairstyle, you're going to need long hair. I wish I could say it works on shorter hair, but it doesn't. I actually have hair extensions that are clip-in that I use for this hairstyle, so if you have them at home – this is a great hairstyle to use them for. You're also going to need a really good hair tie to help you out with this one. I'm obsessed with GIMME BEAUTY hair ties. These work awesome! I feel like with all braided hairstyles, a great hair elastic is the only thing you'll need (and maybe a bobby pin or two for flyaways).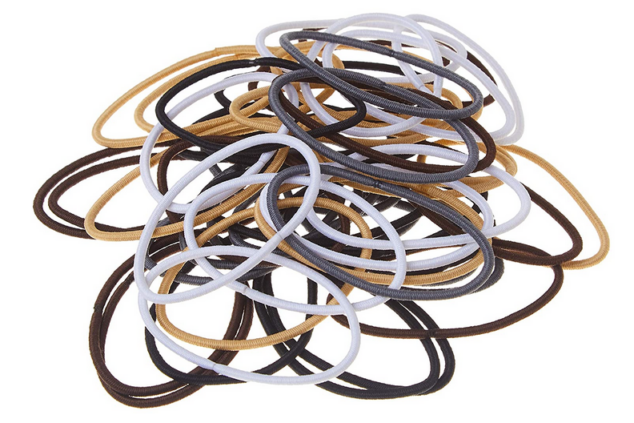 Easy Step Faux Fishtail Braid
Forget intricate braids, this is how you do it! 🙂 I'm obsessed with this one because it's just one of those easy hairstyles that once you get it, you will do over and over and over again. It's as simple as popping in a low bun or a high pony, but it just looks so gorgeous once it's done. This is an easy everyday look that you will love.
I'm going to share my video with you, but I'm going to add text underneath, walking you through the different steps. PS – The cool thing is that this works with curly and wavy hair, too. My cousin has curly hair and this hairstyle looks gorgeous on her when it's done.
Step Instructions:
Take all of your hair and pull it to the side of your head. You can do this hairstyle down the back of your head, but it's easier for me to do it on the side so I can actually see what I'm doing. Make sure it's a very low pony, you don't want it to be higher up or anything. As you'll start working your way down the ponytail, you'll quickly see that the longer hair you have, the better.
View this post on Instagram
You start by pulling the ponytail through the elastic. You could use topsy tails if you need to, but it's just super easy to do with your hands. After you're done, slowly pull the elastic band a little and fan out the hair to make it thicker and look like a fishtail. Now choose a side and then flip the hair through one of the sides (watch my video to see what I'm talking about). Once that's complete, pull the elastic band and repeat on the opposite side. Make sure you're taking equal sections and not creating a bigger section flip on one side. You want it to be even all the way down on size.
How pretty right? You might have to watch my hair tutorial a few times, but it's a perfect easy faux fishtail braid hair tutorial for you! I love a relaxed braid that looks chic and boho. I just love that this doesn't take a lot of time and that you can do it in seconds once you get the hang of it. I also love that it works on thick hair, and thin and fine hair. It doesn't matter your hair type, as long as you have longer hair, you can make it work.
If you love a chunky braid with your fishtail, take the time to pancake it out a little to make it thicker. I love how it looks on my hair once I've gone back and done that to my braid. I just think this is a great hair hack for regular braids because I know not everyone can do a fish tail braid on their hair, so it's important to know that there are other hairstyles you can be doing. It's just a great look and a good fishtail braid for you to try on your own.
Post on: How to Pancake Braid
As much as I love to do hairstyles on my daughter, it's also good to have hairstyles to do on your own hair. For me, it's more of a time requirement to make sure I have hairstyles that are quick and easy. As much as I love a gorgeous braid, I don't always have the time to create one. So an easy faux fishtail braid hair tutorial helps me out (and hopefully will for you, too!).
Make sure you keep watching more of my tutorial videos. I do have actual fishtail braid hairstyles on my Instagram and TikTok accounts, too. I know that the perfect hairstyle is different for everyone, so I love sharing as many hairstyles as I possibly can. Whether you have a formal event, special occasion, or just looking for that simple everyday hairstyle, I've got you covered. I love showcasing a different look every day because I know it's important to have EASY options.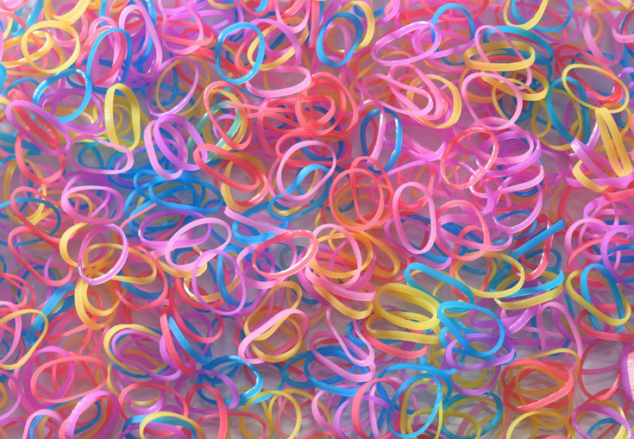 Don't be shy about hair accessories. We LOVE adding in various hair accessories on my daughter's hair. There are so many gorgeous and cute ones out there to use, too!
Find us here:
Follow me on Instagram
Follow me on TikTok