If you've been wondering about the Drybar Blow Dryer Brush, I've got a full review for you. I recently purchased the DryBar Double Shot Oval Blow-Dryer Brush because I've heard so many amazing things about it over the last couple of years. Excited to share with you what I think of it!
Drybar Blow Dryer Brush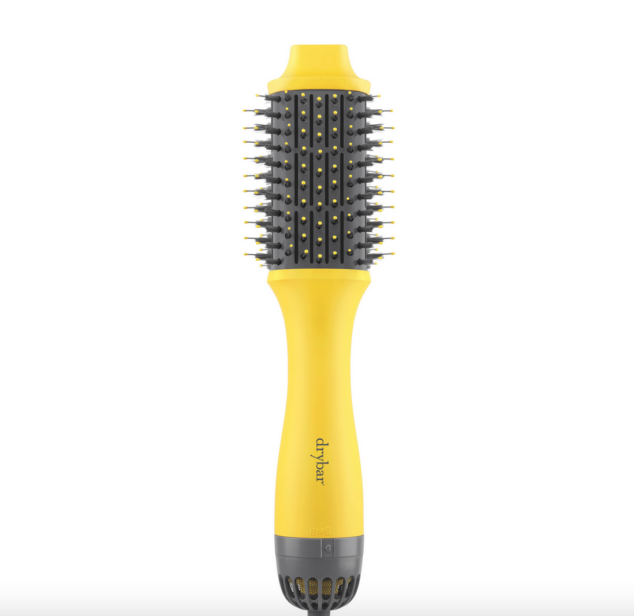 I'm all about the perfect blowout, and for me…. the perfect blowout always came from DryBar. When I was traveling to NYC for work 2 years ago, I would visit a DryBar location and always leave with the best shiny blowout. My hair would have tons of volume, tons of shine, and fabulous smoothness. They would always give my long hair an A++ when it came to blowouts.
Since I haven't traveled to NYC for work in 2 years, I've been trying to give myself the perfect blowout at home using what I have at my disposal. I would use dry shampoo (if I was lazy and didn't feel like washing), use heat protectant spray, and buy hair tools that weren't super expensive that I thought could help me get the blowout job done.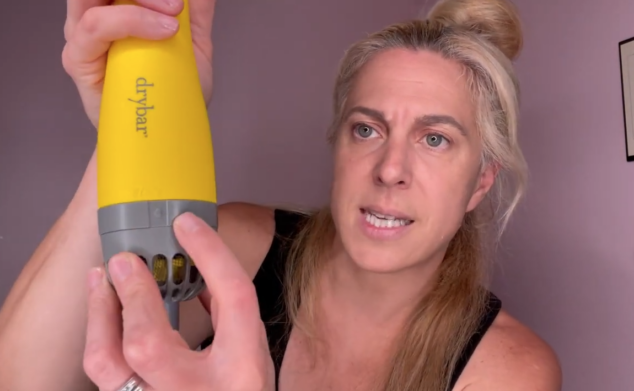 I've tried it all when it comes to trying to perfect a blowout at home. I've bought the traditional hair dryers, ionic technology hair dryers, round brushes, velcro curlers, and every styling tool under the sun (that's under $50)… let's put it this way. If something boosts great results, I've tried it a handful of times.
I had finally had enough.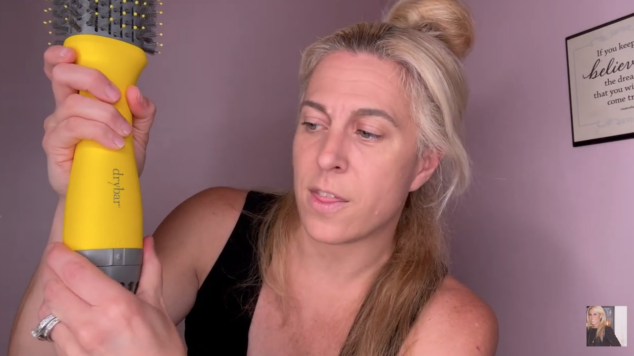 I knew that the only place that really gave me the perfect blowout was DryBar, so I figured I might as well try a hair tool from them. The Double Shot Blow Dryer Brush was on my radar for a long time, I just didn't feel like paying the $155 (you can get it on sale often, especially during the Nordstrom Anniversary Sale). I finally just decided to go for it and I bought it for myself for my birthday.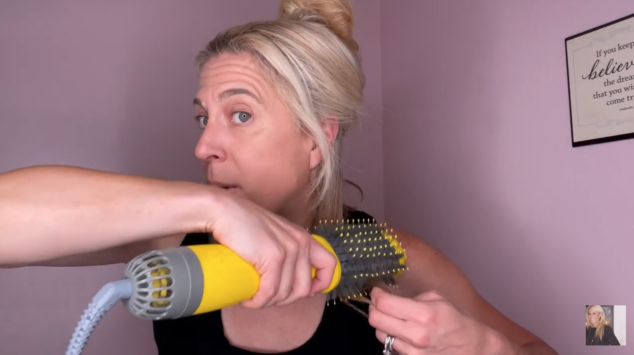 I was intrigued by a few things off the bat with the Drybar Blow Dryer Brush:
It promised to work on a variety of hair types (fine hair, thick hair, curly hair, straight hair)
It works on dry hair and wet hair
It was a cool oval shape which seemed to make it easy to use
It doesn't destroy your hair or damage your hair cuticle
It always gives a smooth finish, so you get smooth hair
It doesn't destroy your hair with heat damage
There are a few temperature settings for you to choose from when it comes to heat and a cool setting (I prefer the highest setting with the highest heat)
You can use this on short hair, too… not just longer hair
I'm telling you, I wasn't sure what to expect when I made the DryBar Double Shot Blow-Dryer Brush purchase. I was hoping to love it because I had read so many amazing things about it, but I never know about things like this until I try on my own hair.
I'm 100% OBSESSED with it.
I mean, over the top… where have you been my whole life… obsessed. I'm someone who can't blowout my hair with a regular blow-dryer and brush, so the fact that I was able to get a perfect blowout on my hair in less than 10 minutes shocked me. me.
Here's a little about DryBar's Double Shot Blow-Dryer Brush:
Combines the hot air of a blow-dryer with the structure of a round brush to create a smooth, shiny blowout with tons of volume in one quick, simple step.
Winner of the Good Housekeeping 2020 Beauty Award for Best Hair Tool
Guaranteed with a 2-year limited warranty
What hair type is this good for?
Great for all hair types.
Wavy
Curly
Straight
All Hair Types
Benefits
Ionic Technology helps seal the cuticle for less frizz and tons of shine while styling
Strategically-placed vents provide maximum airflow for a faster blowout
Ergonomic, lightweight design provides maximum comfort
A combination of nylon and tufted bristles allows for exceptional tension and control
Oval shape with gently curved edges provides tons of volume and a smooth finish
3 temperature settings (cool/medium/high) allow for customized styling of all hair types
How to use
After shampooing, thoroughly towel-dry hair to remove excess water. Brush out hair using a detangling brush or comb, and separate into large sections. Place The Double Shot underneath each section and work it slowly from roots to ends until the section is dry and smooth.
For Volume at the Roots: Use horizontally at the crown and pull though from roots to ends in an upward motion.
For Extra Thick or Long Hair: Rough dry with a regular blow-dryer before using The Double Shot.
To Extend Your Blowout: Use on DRY hair to create a smooth, finished look.
For me personally, I find it super easy when I can section off my hair from the bottom up and go through each section that way (as you can tell from my video of using the Drybar Blow Dryer Brush). It makes it easier for me to control what I'm blow drying. As you can see, it's phenomenal!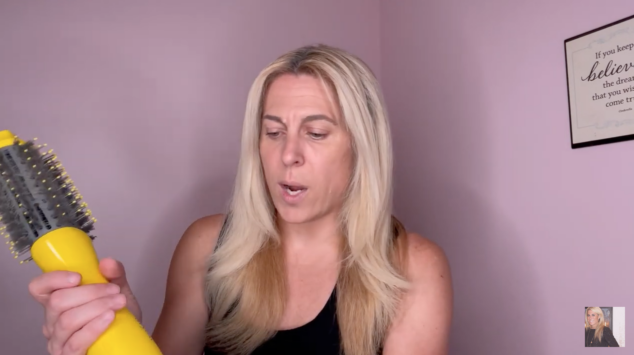 I know there are other dryer brushes, one of which is the Revlon brush for a fraction of the price, but that one never worked well on my hair. It added to the volume and I wasn't a fan of how it looked when I was done.
I know the Drybar Blow Dryer Brush is a bit more than you might want to pay, but I'm telling you.. for me, it's worth every penny. I feel like I've already saved money because I don't ever have to pay for a professional blowout again. It's that kind of good!
How to Create Waves Without Heat
We share daily hairstyles on our feed all the time, too! Make sure you're following us on Instagram and TikTok.