This is a cute bun hairstyle for the fall season. I'm all about finding the cutest and the prettiest hairstyles for the season. This is such a simple and easy one for you to do for Halloween, too.
Cute Bun Hairstyle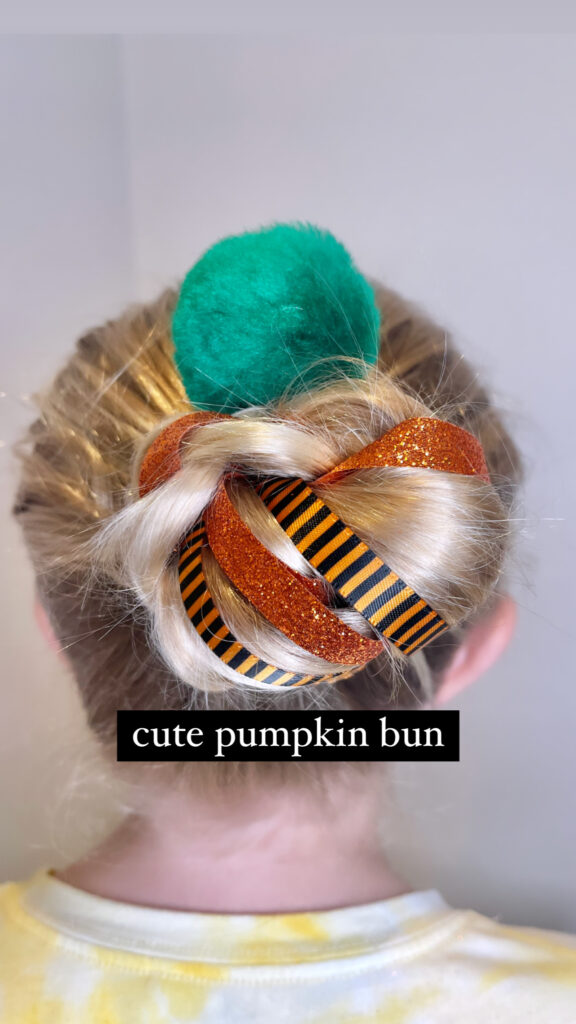 I'm all about a cute bun hairstyle for just about any occasion. This pumpkin bun is just about the cutest and easiest hairstyle to do. I love how adorable this one is when it's said and done.
All you need for this one is a bunch of orange Halloween-inspired ribbons and a green pom-pom glued to the top of a bobby pin.
If you're thinking of doing this one, please let me know! I would love for you to share it on social media – @AudreyMcClellan.
View this post on Instagram
When it comes to Halloween hairstyles, I love to be able to share some of my favorites because it's not always just about wearing the costume. You can have some fun creating some adorable and festive hairstyles, too.
When I was a little girl, my mom would always do my hair for special occasions (holidays included!). I love doing this with my daughter and seeing her get so excited about what her hair looks like. It warms my heart to see her so happy, just through a simple and easy hairstyle.
I'm someone who loves to do updos, so this cute bun hairstyle is one that I personally love love love. It's quick and it's a show-stopper, I promise! Try this one out and let me know what you think when it's done.
I have a bunch more Halloween hairstyles for you to try, too!
Head over here for:
Cute and Easy Halloween Hairstyles