Moving last year really made us rethink what we want the spaces in our home to look like. We want each space – our living room, our kitchen, our porch, our bedrooms – all to be spaces that make us happy. We want to walk into a room and feel uplifted and really appreciate and love the items we have in each space. As you can imagine with 5 kids we have a ton of stuff throughout our house, but when it comes to added touches of decor, it's become a passion project for us to find the "perfect touches!"
We're BIG flower and plant lovers. As you know from our green thumbs, we love creating spaces that involve greenery. Living in Rhode Island it's not always easy to maintain the perfect greenery in your home throughout the year. When the temps get cold, they get frigid! When the temps get hot, they get scorching! So what's the best thing for us to do?
We find the most beautiful authentic and realistic looking artificial plants and flowers that we can find! Nearly Natural is my go-to destination for finding everything and anything that will work effortlessly and seamlessly in my house. As they say, "you can shop with confidence knowing our floral collection…'looks so real, they're Nearly Natural!' Pioneers in our industry; Nearly Natural is the first artificial floral company to hire head designers with years of experience in the live plant industry. We source products with a sound and in-depth knowledge of our industry…Nature. We travel around the globe twice a year in search of the best products available on the market today. We turn over leaves to check for color accuracy and feel for textures. It's our mission to provide exceptional products that exceed the expectation of our customers at a price that is fair and reasonable."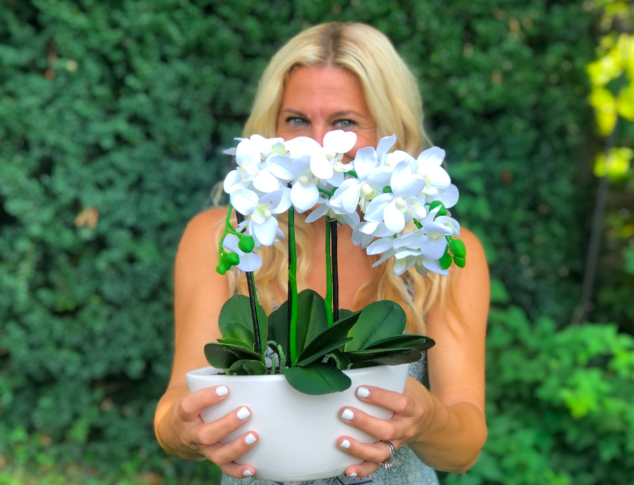 And that they do.
There were 3 areas in my home that I really wanted to "spruce" up with some plants and flowers: 1) Office 2) Living Room 3) Front Door. I found the perfect items to enhance each one of these areas with Nearly Natural. I really wanted to make sure I found items that looked real, I didn't want anything to look artificial. I was beyond impressed with the selections we chose! They were beautiful and real looking and just overall eye-catching!
What did we choose?
Let's kick it off with my office. Flowers and plants always make me happy, so when it comes to my office space – I need this space to not only make me happy, but feel inspired. The Phalaenopsis Silk Flower Arrangement was my top choice for my office!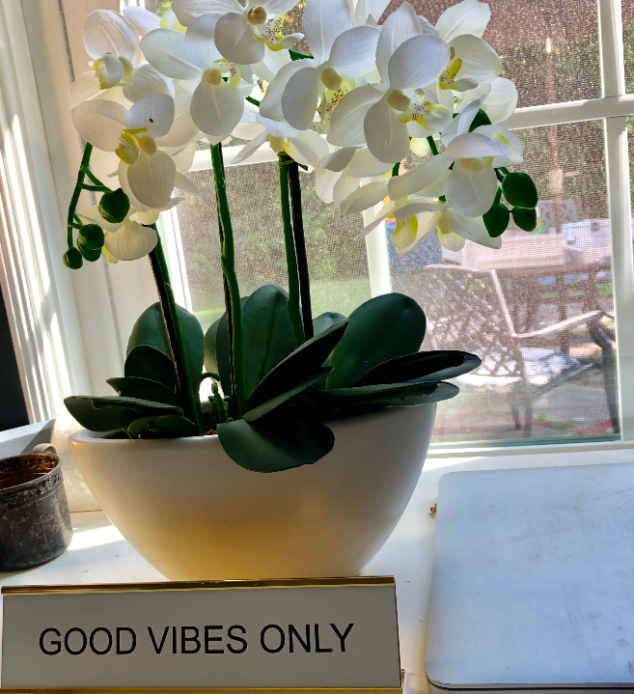 Bring the brightness of a sunny day to any room in your home with this gorgeous Triple Mini Phalaenopsis. With three distinct stems sprouting forth from a lush base of green leaves culminate in soft, bright blooms (replete with berry buds for contrast.) This "bundle of sunshine" comes complete with a beautiful white bowl-vase planter. It literally just makes me so happy when I sit at my desk and I even put it with my Good Vibes Only desk sign!
Next up?
My front door! I've been wanting to spruce up my front door since we moved in a year ago! I've been trying to find the perfect piece. I just didn't want to deal with flower or plants dying on me, so finding a wreath from Nearly Natural was perfect for me! We found the most perfect one with the 20″ Succulent Wreath. Stunning. Classic. Versatile.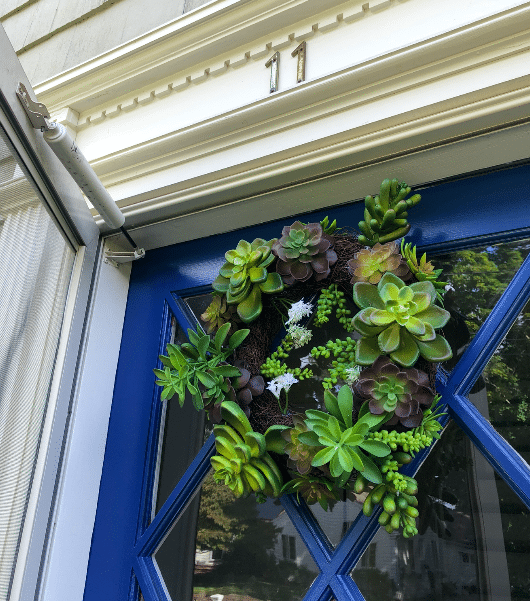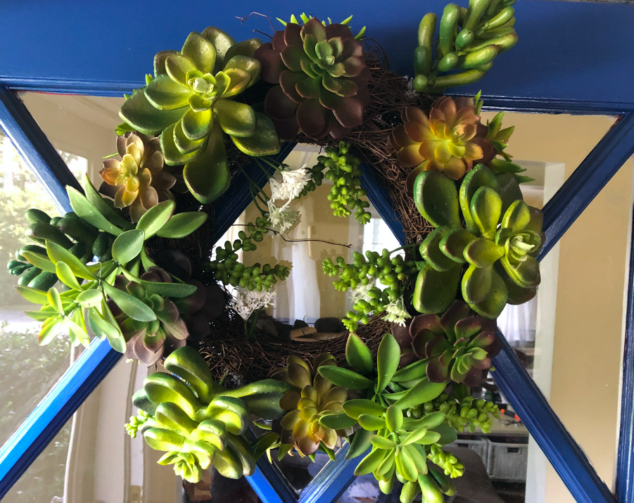 Looking for a decoration that's soft, beautiful, and timeless? Then look no further than this beautiful magnolia wreath. Lovely greens (complete with "berries and buds") twist and turn, creating the ideal backdrop for the billowy white blooms that spring forth. This makes for a perfect wall accent year round. I'm telling you – timeless this is, I just am in love with the gorgeousness and the simplicity. This is a must have for anyone looking for that added elegance!
Next spot?
My living room! This is the space that I've been wanting to add some greenery in since we moved! I've been dying to add something on the bigger side, but something that wouldn't overtake the room. I don't want to be picking up any leaves that may have dropped or anything like that! I found it with the Agave Artificial Plant in Sandstone Planter. How perfect is this for my living room? I found the best spot right next to my fireplace!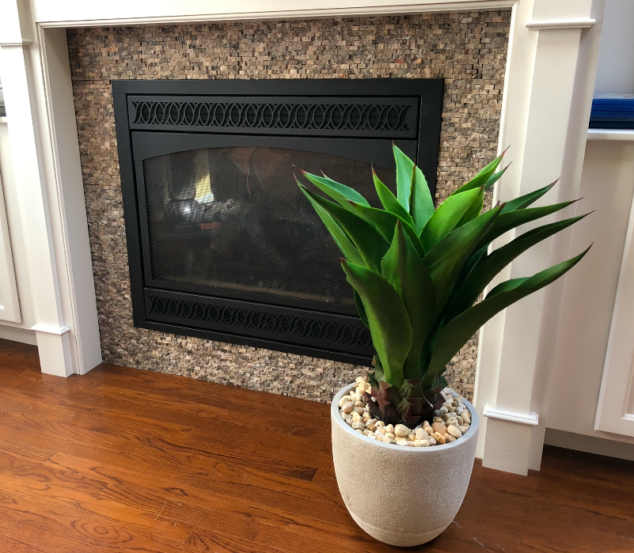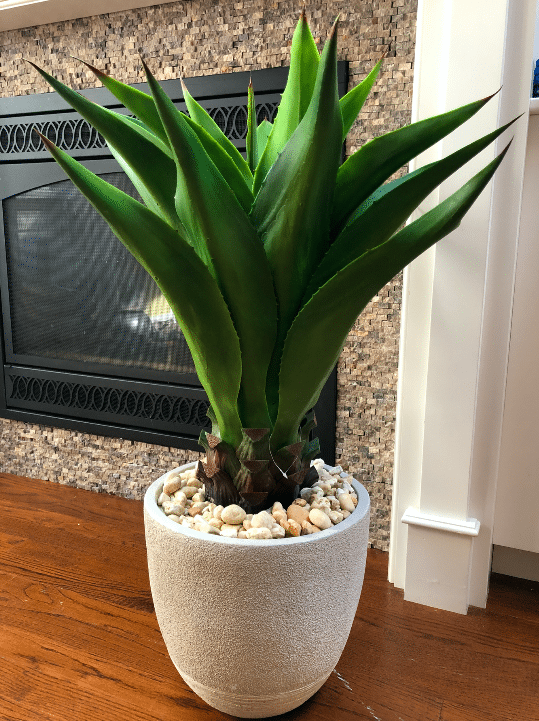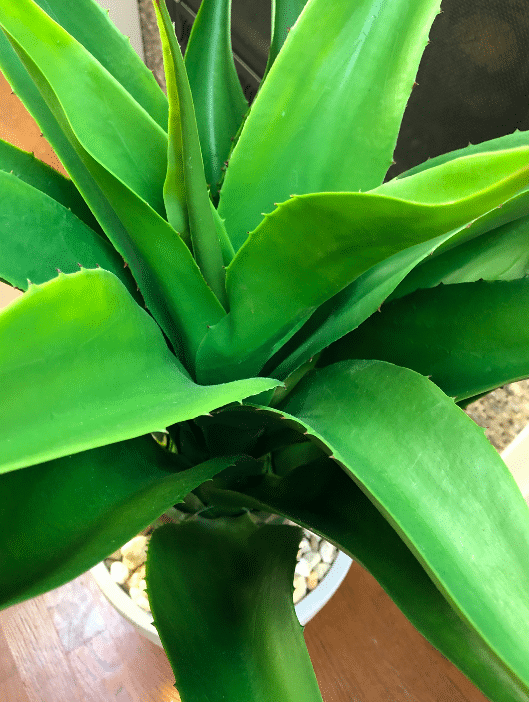 Native to the arid regions of southwestern America, this agave artificial plant is the perfect choice to add to a sun room or living room for a southwestern inspired look. Coming in several layers, the thick succulent leaves of this artificial plant curve slightly downward at their tips. With a sandstone planter included, you can set this piece on top of a small table next to your couch or chair, or it can be used to fill in any empty gaps in your arrangement. It's 3 feet tall and just looks AMAZING!! It's so real looking that you'll actually forget it's NOT! Crazy, right!?
Nearly Natural.
It's everything.
You're going to love all the items and really be satisfied!
Head on over and have some fun shopping! The best part!!?? Receive 20% OFF with the code: DecorAud20
Disclosure: Sponsored post with Nearly Natural.