Right now if you can buy local, do it. It's something that we need to remember and think about as we're going about our quarantined days. I know that most shops and salons and stores are closed right now unless they're considered essential, but there are still restaurants opened (to go service only) and some stores (for curbside pickup) that I urge you to buy local from because it will help sustain their businesses.
Buy Local – Support Small Businesses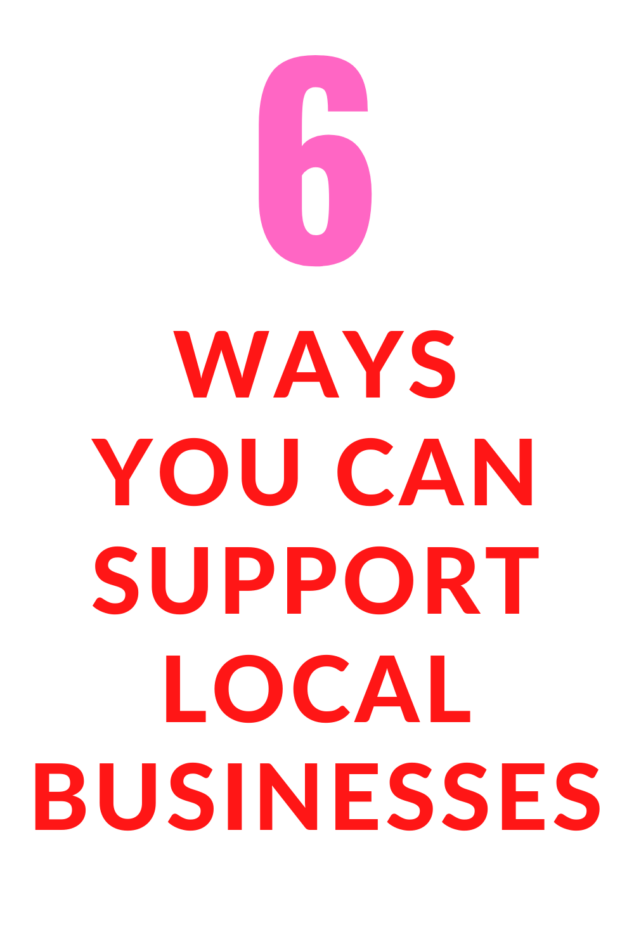 My husband and I are both small business owners so we know first hand the power when you buy local. My husband's business (The Backyard Food Company) is different than my business. He has an actual product (check it out!), where I work online and work off of traffic to my social media accounts and sponsored content. Our business models are a little different, but very much the same in that supporting a local business owner right now is key.
I wanted to share in this post how YOU can help support local businesses and encourage people to buy local. It's something that is very top of mind right now because it's such a difficult and unique time in our history. What's unbearable is seeing the small businesses in towns across the country closing and potentially never reopening. That's what tough to see.
We all can play a part in helping out whether it's a local restaurant, local bookstore, local clothing store or local cafe. We can all do what we can to make sure we're helping and supporting. If you don't have the money right now to help monetarily, the good news is that there are other ways you can help, too.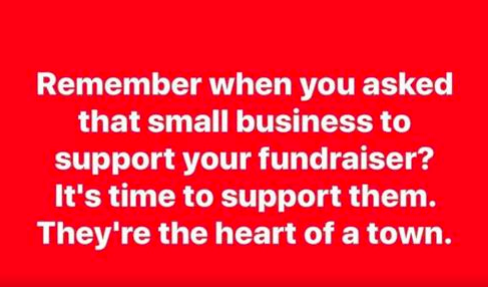 How? Here's my suggestions on how on help small businesses right now (and buy local):
Let's start with the restaurants around you right now.. One of the best ways you can do this right now is buy local and support those restaurants around you that you love by picking up takeout. My husband and I have been doing this 2x a week. Instead of doing date night out, we're doing date night in. We know that restaurants have certainly taken a hit with the closings of dining in, but many are still open for takeout and curbside pick-up. Support these local locations. It's key and vital to them remaining open.
When you buy that takeout meal and bring it home, snap a picture and share it! Tell your story as to why you picked it up and why you loved it. Maybe you know the owner. Maybe they shared a note on the container saying thanks. Maybe they included a little letter inside the bag. Maybe they extended gratitude 6 feet away. Share your story for that particular meal on your social media feed. Though it doesn't seem like it's that big of a deal to you, it IS to them. Sharing is caring and right now, it's potentially help in sustaining business.
Call to some of your favorite local stores right now that still might be open doing curbside pickup. I know that some bookstores and pet stores and local shops are still able to remain open by doing strict curbside pick up. This is helpful to these businesses because it's allowing them to remain open and potentially get more sales. I had a friend recently call a local pet store up and was able to do curbside pick up with them. A sale is a sale right now and it's important to keep that in mind. Call ahead and see if any stores are doing curbside or delivery.
Not everyone is in the position to buy local right now simply because they might be on a tight and/or restricted budget. You can still help and support local businesses by sharing whatever you can on social media. Maybe there are some awesome deals going on at your favorite restaurants or maybe there are special hours… share that online! Do what you can to help spread the word right now for people. It's a big deal and if new eyeballs can come over to someone's small business, that's a win for them. That's a great way to inspire someone to buy local.
Reach out to your favorite small businesses online to see what you can do to help support them. I know that my husband has been truly touched by people messaging him and asking if he's doing deliveries. He sells online, but is also in over 800+ grocery stores. Some people don't want to be shopping in markets right now, so he's more than happy to deliver his products to someone's door!
How can you help your friends out there who have online services and/or social media businesses? Right now – more than ever – it's all about sharing their content or visiting their blogs, websites and social media accounts. If not now more than ever the online world is exploding in terms of people being "stuck at home." The virtual world has become our true world at the moment. Do whatever you can to support small businesses online. I'm telling you right now, sharing is caring.
I hope these suggestions help you when you're looking to buy local products or support small businesses. Local businesses are the heart of the towns around the country, make sure you're doing whatever you can to support them right now.
Also… just 2 quick suggestions for small business owners (online and or offline), don't be afraid right now to reach out to people to help spread your message. If you know you have loyal customers and fans, ask them for help. You might be surprised as to what they can do to help you out! Now is the time to rely on the people who have bought from you and supported you the most. Everyone knows that times are tough right now, don't be afraid to share that you need a little help.
And last… if your business isn't immersed in social media, now is the time to get into it. Social media is the best way to spread your message and get the word out. If you need any help with it, please reach out to me. This is vital to your business right now because even if your business is pressing pause at the moment, you still have the ability to be sharing content about it and encouraging people to buy local.
I love sharing these ideas and suggestions as what you can do to help small businesses out right now. PLEASE – share with me what I'm missing that could be and would be very beneficial to you. We're all in this together and love to share what we can all do to help each other out!!
Also on MomGenerations.com: Locally we're looking to bring smiles to neighborhood kids with Neighborhood Scavenger Hunt ideas for kids! Check it out here.