Anyone else have a million hair accessories that you need to organize? We have Bobby pins, elastics, scrunchies, brushes, etc. It's important to have in mind some storage ideas for hair accessories.
What are some storage ideas for hair accessories? There are plastic bins, caddy buckets, organizers, and plastic lazy Susan organizers. All of these storage ideas help organize your hair accessories because there are multiple cups, spaces, and bins to store items.
Storage Ideas for Hair Accessories
When it comes to trying to keep Victoria's hair accessories organized, I've had to get smart. We have 100's elastic bands, 100's bobby pins, multiple brushes, hair sprays and creams, ribbons, bows, clips, scrunchies, etc.
Finding storage ideas for hair accessories has been the most important because if we don't keep them organized, they'd be all over the place. It drives me crazy to see elastics on the ground or bobby pins scattered everywhere.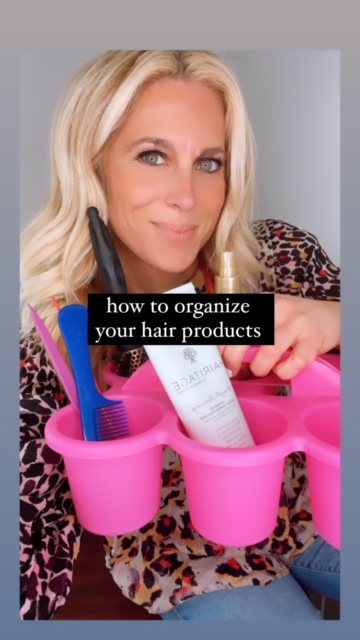 Gone are the days where a little basket will hold everything easily. The best way to organize hair accessories is by keeping everything together and in specific spots. It's easy to utilize all of your accessories when they're tidy, neat, and in one place.
Finding the best hair accessory storage organizer and hair accessories storage container is easy when you know what size you need. If you have tons of items and growing your collection, go big If you have a decent amount, but not a ton, you don't need anything massive.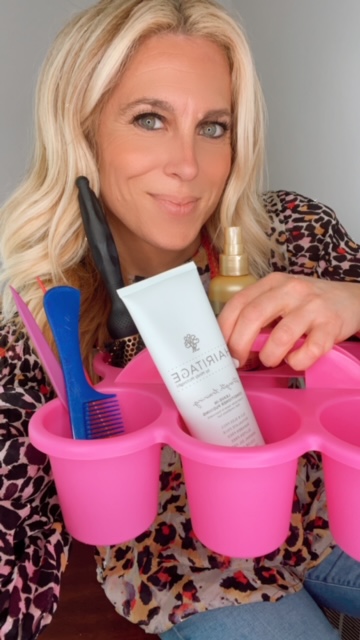 We have a ton of stuff, but I don't want anything huge. I like to be able to have a carry caddy, so it doesn't mean that I have to do her hair in the same spot at home.
How Do I Organize My Daughter's Hair Accessories?
I bought a small plastic pink caddy with 6 cup holders that allow me to hold all of my hair accessories. I use cups for various things: elastics, pins, clips, brushes, sprays, etc. It's easy to tote around and it's easy to store items. Works perfect for me.
View this post on Instagram
Buy it here for $9.
Stackable Clear Plastic Hair Accessory Containers with Lids
This is a great option for hair accessory storage because you have designated spots for various items and it's an item you can easily store or place in your home.
SPACE SAVING hair accessory organizers proudly made in the USA

These STACKABLE containers keep bathroom counters and vanities neat and organized

9.5-inch by 5-inch size is JUST RIGHT for hair clips, bows, bobby pins, and hair ties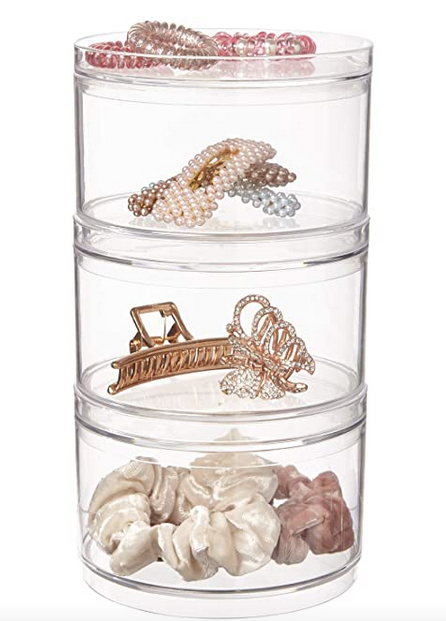 6 Pantry Organizer Bins, Plastic Weave Baskets
If you have a ton of hair accessories, try these baskets. I love these because it gives you ample space and room for your items to be organized and even displayed.
A set of 3 colors: white, green, pink

Weave side and 2 grip handles design, easy drying and carrying

Good for storing snacks, toys, cosmetic, office supplies and more

Different colors can be used in different storage need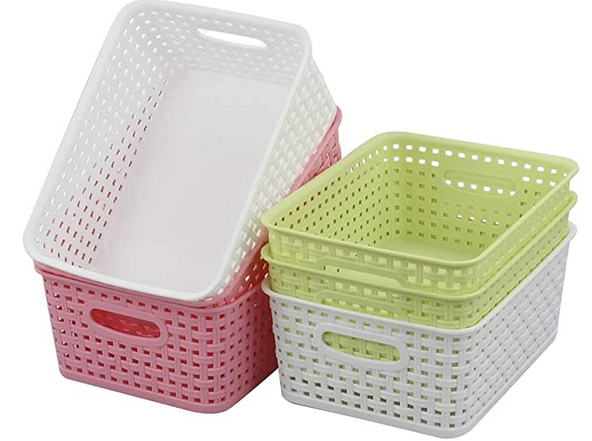 Lazy
Susan Cabinet Turntable and Organizer
This is one of the best storage ideas for hair accessories because it's easy. I actually use this for my makeup at home, too. You have different slots of elastics, pins, clips, bows, products, brushes, etc. It's great to have it twist because you can easily access what you need.
ORGANIZE unruly items like snacks, packets, bottles, and bags with this clever 11″ turntable; Fits standard cabinets

Removable bins (3) with handles make it easy to grab entire bin from high shelving

Clear view bins keep items visible for quick selection and inventory of inside contents

Smooth 360 degree rotation on stainless steel ball bearings; non-slip feet keep unit in place

NO INSTALLATION or assembly required; Measures 10.4″ D x 10.4″ W x 4.1″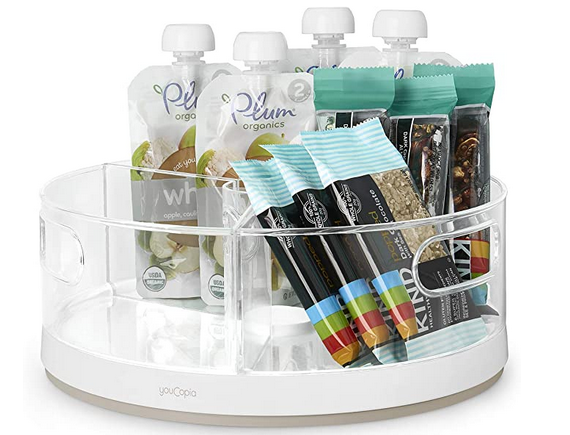 Jewelry Box with 4 Drawers
You could always use a jewelry box, too! As long as you have the ability to have sections where you can store things, this will do perfectly.
Clear Exterior Design: The exterior of the jewelry box is made of crystal-clear acrylic, beautiful and durable. It can store your jewelry and display the jewelry on the first floor.

Velvet Material: The inner lining is made of high-quality velvet and composite board. It is soft to the touch and protects your jewelry from any kind of damage.

4-Tier Drawer: Unique 4-Tier design, the compartments on each tier are different. The dividers of the tray are adjustable so that you can adjust the space by removing or adding the dividers to organize different sizes of jewelry.

Product Size: The dimension of the entire product is 9.4″*5.3″*7.7″H. Each tray is 8.3″*4.8″*1.8″H, perfect to store earrings, rings, necklaces, bracelets, hair clips, watches, etc.
These are all great storage ideas for hair accessories, which will keep everything together. It's all about staying organized and hopefully one of these will help you out.
How Do You Organize Hair Bands?
This is a question I get asked a lot. I feature elastic bands that vary in size and color. Normally I keep them together by sizes. When I'm doing more intricate hairstyles, I like to use smaller elastics. When I'm doing buns or ponytails, I like to use larger elastics.
How Do You Organize Your Headbands?
When we're organizing headbands, we just place them together in a basket. I shared some plastic options above, but you could use any kind of basket or case. As long as they fit in neatly, you're good. They also have some really cool headband cases that you could purchase.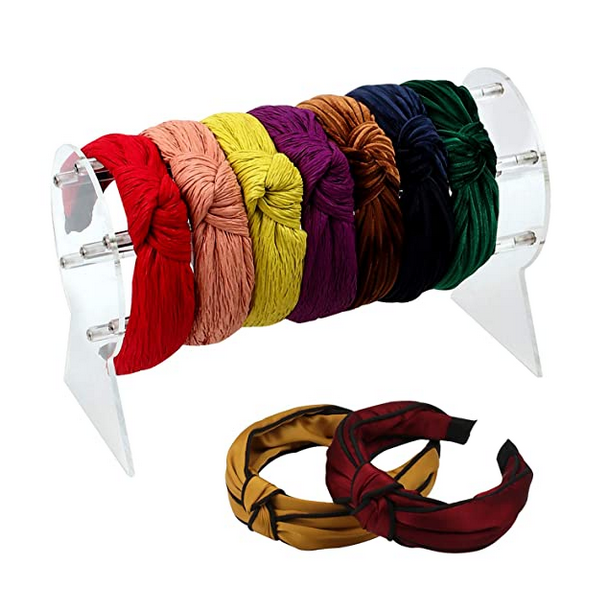 There are different size headband holders, too. You might want to find that one holds more (or less). I just love how easy this is to pop them on and have them stay put. Keeps them very organized.
Hoping these storage ideas for hair accessories work for you! Let me know what you end up using or what you do to keep everything straight and set and organized at home.
If you're looking for some additional hair purchases, check out some of these posts that u've written:
10 Banana Clips for Thick Hair
3 Easy Hairstyles That You Can Do on Your Own
Best Hair Cutting Shears for Cutting Hair at Home