Heading to Disney World? Here are some cute outfits for Disney World that you can use as some inspiration. These outfits are great for hot weather and walking around the Parks all day.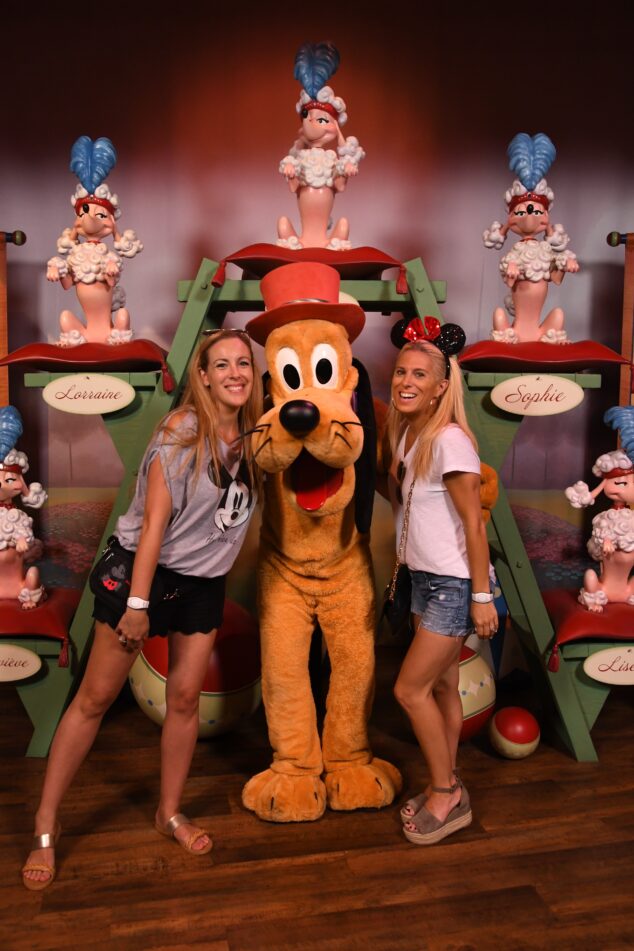 When you're heading to Disney World it's important to make sure you're dressed comfortably. You're on your feet a ton, so you want to make sure you've got some cute outfits for Disney World that will make you feel fashionable and comfy.
Cute Outfits for Disney World
If you're on the hunt for some cute Disney World outfits for adults, we've got you covered here. It's not always about the kids dressing for the part, it's about the adults, too! Excited to share with you some looks that I've worn to Disney World and have felt chic, fashionable, and comfortable.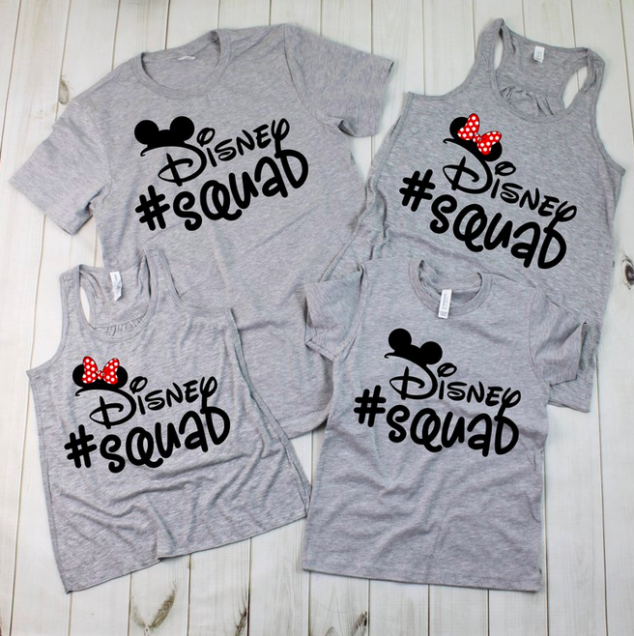 Disney World has four Parks for you to enjoy: Magic Kingdom, EPCOT, Hollywood Studios, and Animal Kingdom. When you're heading to these Parks it's also fun to dress ways in which reflect some of the fun that these Parks are known for (aka Star Wars Galaxy's Edge).
Disney Outfits for Women
Here are various outfit ideas for you to check out and be inspired from for your next trip. I'm including links to where you can purchase these items, too. Have some fun and find some items that speak to your fashionable self!
Denim Shorts and White Tee
You can't go wrong with a classic look for Disney World and any of its Parks. These two fashion staples are available for just about any woman out there. Grab a white tee and pair it with your denim shorts. The best part is you can have some fun with shoes and accessories. As you can tell below, I grabbed Minnie Mouse Ears and Espadrilles for the day.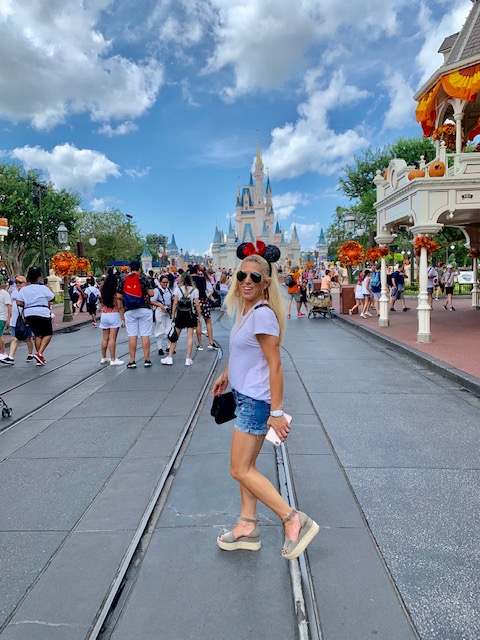 Shop this look:
Disney Tee with Skort
Sometimes it's all about finding some Disney World love AT Disney. I bought this cute tee while at the Parks because I wanted to showcase some love of Disney World while I was there. Skorts (skirt with shorts underneath) have become my new best friend for Disney World trips and summer in general.
Disney Outfit Ideas for Adults are fun, but when you find that perfect item… you jump at it.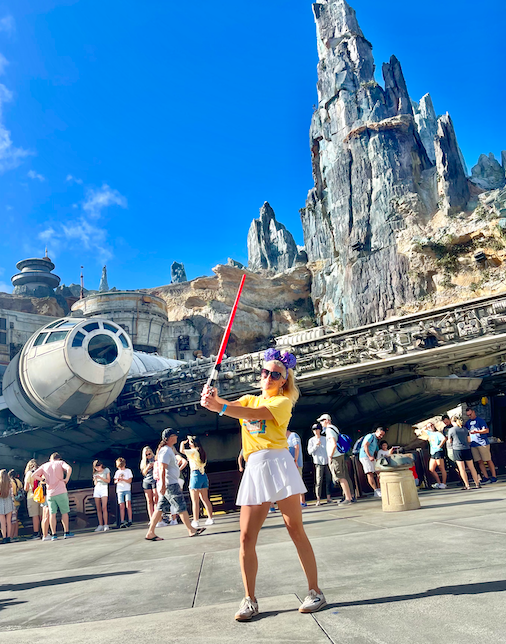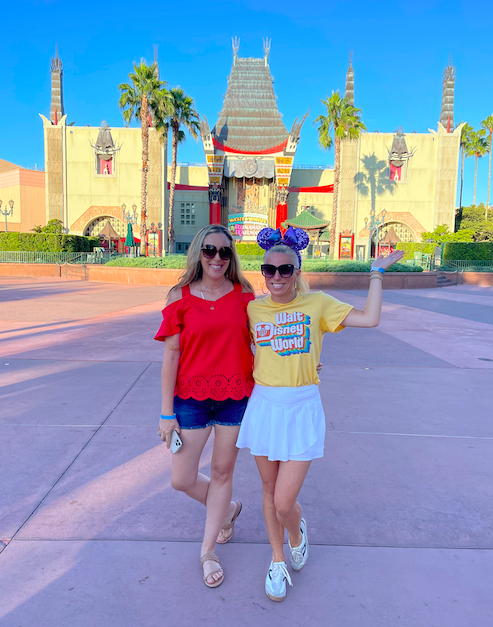 Shop the Look:
Skort with Tank
I'm going to toss another skort into the mix because I bought them in both black and white! I'm OBSESSED with this particular skort because it's comfortable, fashionable, and perfect for working out or heading to the Parks. This look I just went with a monochromatic style.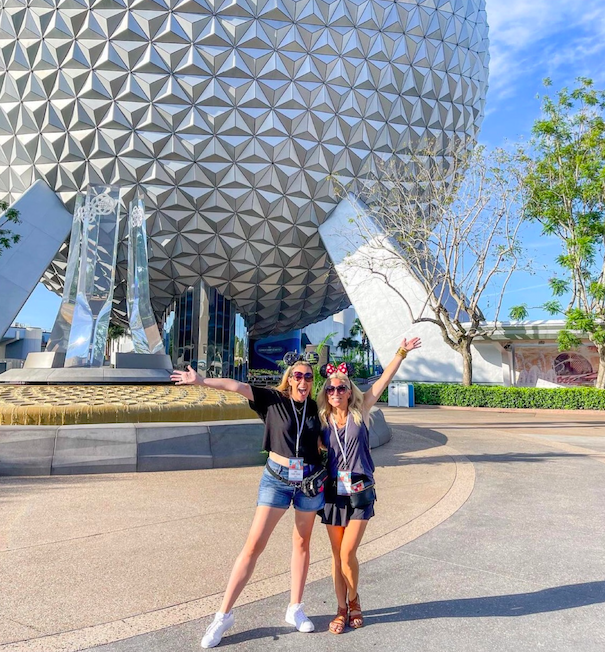 Shop the Look:
Tank with Denim Shorts
When you're looking for cute outfits for Disney World, it's important to always know you can go with classic looks. Here is another look with denim shorts paired with a black tank. I decided to have some fun with some belts, just to give the look a little bit more fun, too!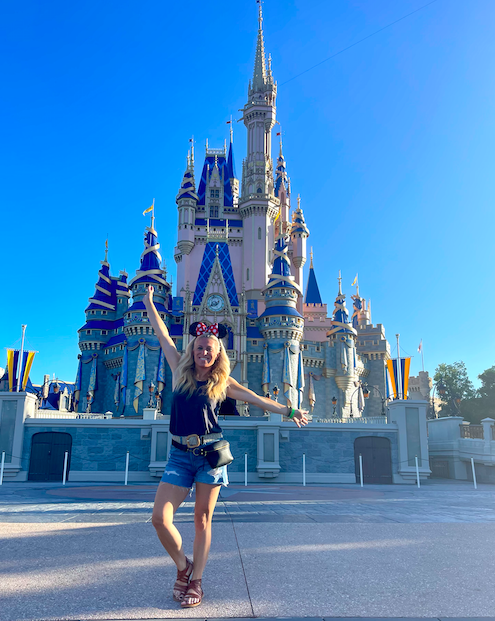 Shop the Look:
Wearing a Dress to Disney
If you're planning on wearing a dress to Disney World, make sure it's a dress you can ride some rides in. Don't go too short and don't go too tight. Make sure it's comfortable and you can get around in it easily. These dresses are fun because they're loose, airy and comfortable.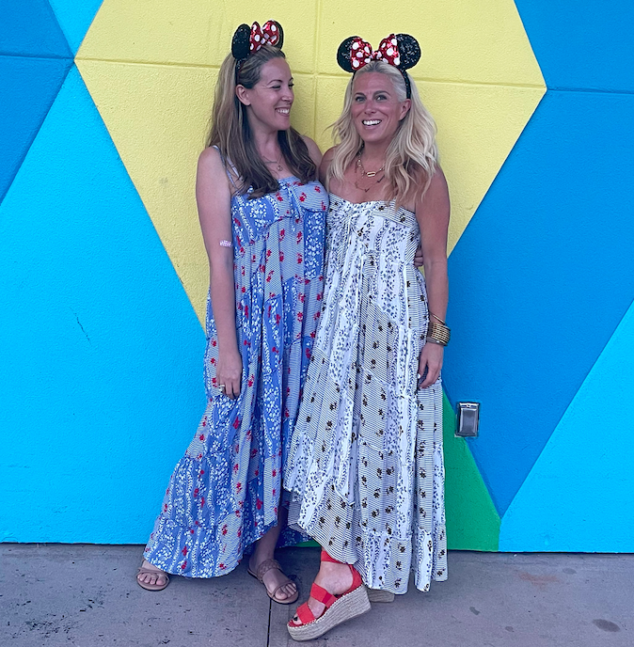 Gauze Shorts and Tank
It's important when you find something you love, to stick with it. Gauze shorts are one of the best airy and breathable items to bring with you to Disney World. If you're looking for a great option for yourself on the fashion front, these are it.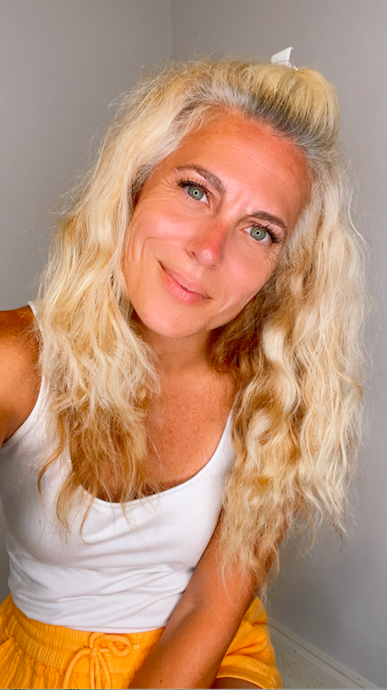 Shop the Look:
These 6 cute outfits for Disney World are perfect for women to try for their next trip. I felt so comfortable walking around Disney World and enjoying the Parks with my family.
What Should a Woman Wear to Disney World
Remember, there are 4 things to think about when you're planning and packing for Disney World (or Disneyland):
Check the weather and plan your outfits accordindly.
Dress for comfort, too.
Don't be worried about pulling out some of the classic pieces (white tee, denim shorts, etc).
Make sure your shoes are comfortable for YOU.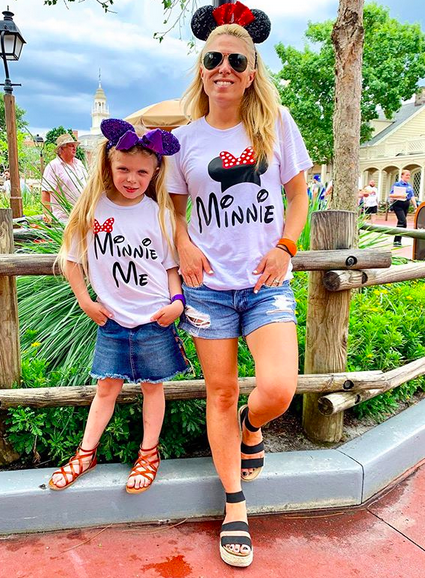 How do you look cute at Disneyland?
Make sure you take all of these tips for Disney World and apply right to Disneyland! The Parks are the same and the magic is the same, too! Let me know some of your outfit ideas for Disney World, too!
Check out my other Disney content, too!
If you're looking to spread the Disney love right now, shop at SHOP DISNEY.