Looking to make a Buffalo Chicken Dip with sour cream? This recipe will have you covered. If you love the taste of buffalo sauce, you're going to love this simple recipe that you can make at home in less than 30 minutes. It's the perfect game day dish and has turned into a perfect appetizer for our family.
Buffalo Chicken Dip with Sour Cream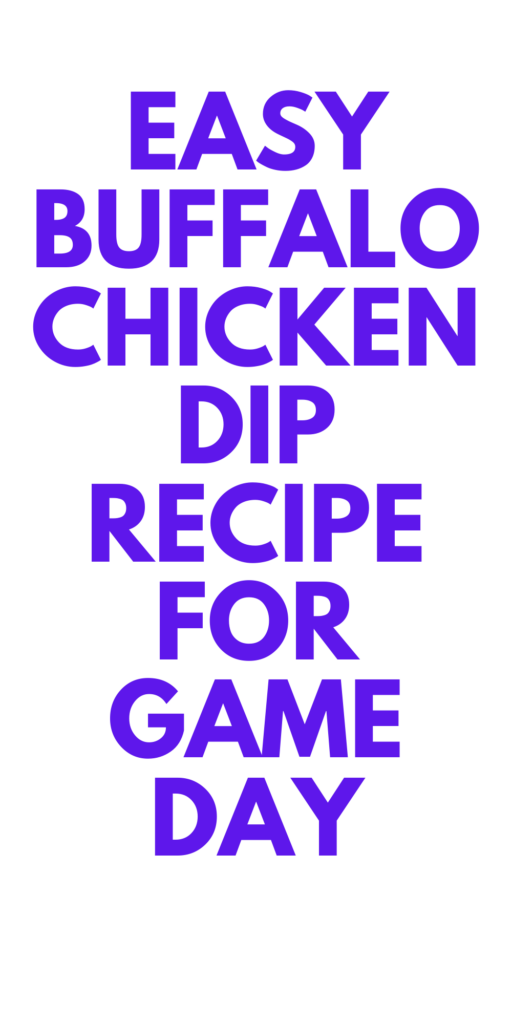 Let me start this recipe post off by saying that this is my personal favorite because it's one dish that everyone in my family likes. When you find dishes like this, especially when you have five kids, you hold onto them for dear life. This one isn't exactly a healthy eating dish, but it's a delicious appetizer that's fun to indulge in, believe me… you'll want to make this for your next party.
Everything stops for GAME DAY in the McClelland house. Football is what our weekends seem to be made of right now. I'll be honest, I might not know much about football, but I do know I can make a great Buffalo Chicken Dip with Sour Cream. It's the absolute perfect party dip.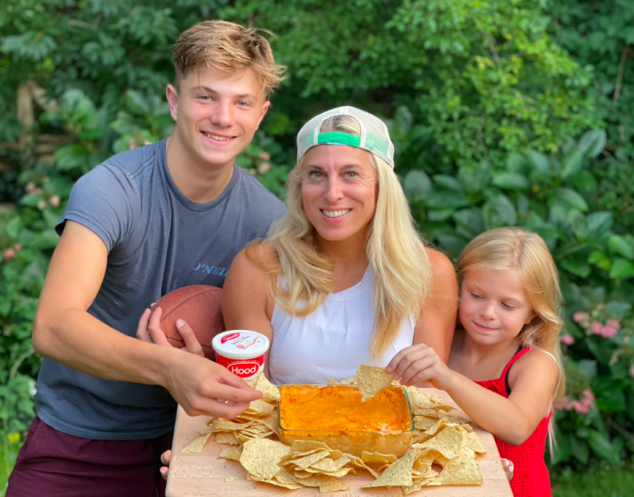 It's turned into a family thing… football game nights! With two sons who play high school football, a husband who coaches high school football (and played in college), and all of them being obsessed with pro and college football, I've had to learn a thing or two about the game. I might not be as proficient as them, but I always create a pretty yummy food spread for the big game (with my husband's help!)
Buffalo Chicken Dip is a classic in our house and we've been making it for years for family gatherings. I love that it's a quick and easy recipe requiring just a few premium ingredients, and Hood Sour Cream adds another layer of creaminess to this fan-favorite dish. Nobody wants anything complicated while putting together their HOMEgating spread, so this is the perfect addition to your family's game day festivities!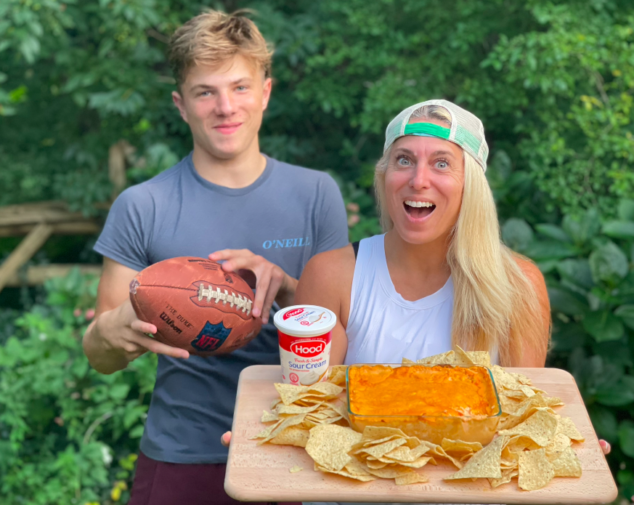 Buffalo Chicken Dip Recipe
You need:
1 cup HOOD Sour Cream
1 cup buffalo wing sauce (the kind you use to make buffalo wings )
1 package of cream cream
1 1/2 cup of shredded cheddar cheese (*you can use more or less, totally your preference)
4 cups of shredded chicken (I make it easy on myself and buy rotisserie chicken and just shred it that way, just make sure it's real chicken)
Steps:
1. In a large bowl add the cream cheese, sour cream, and buffalo wing sauce. Mix together until blended.
2. Add the shredded chicken and mix together in the large mixing bowl until all the chicken is coated. (you can make your own chicken breast to shred if you prefer)
3. Pour the mixture into a casserole dish (make sure it's a safe dish)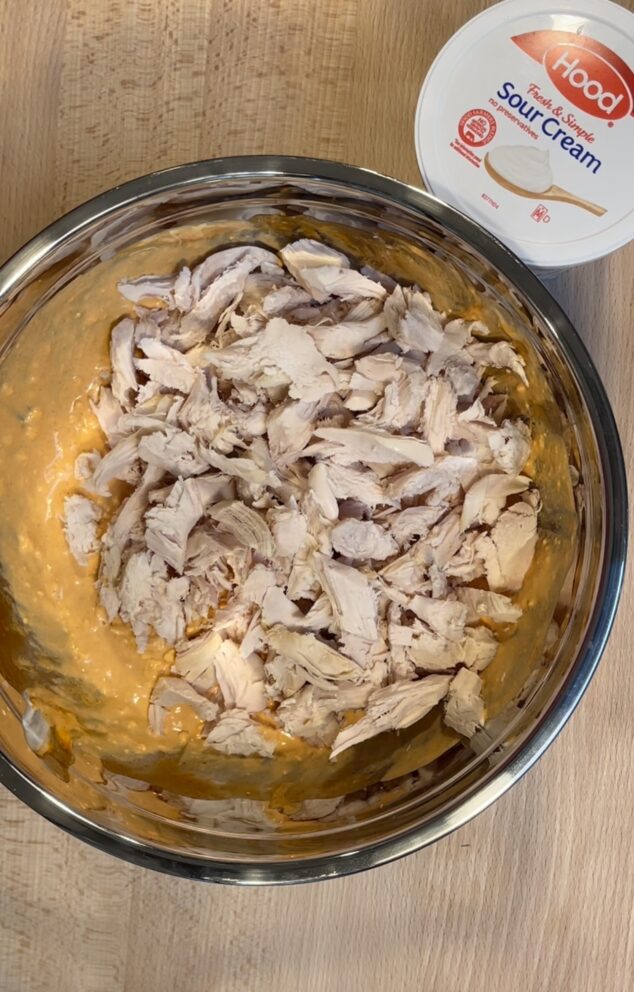 4. Add your cheese right on top.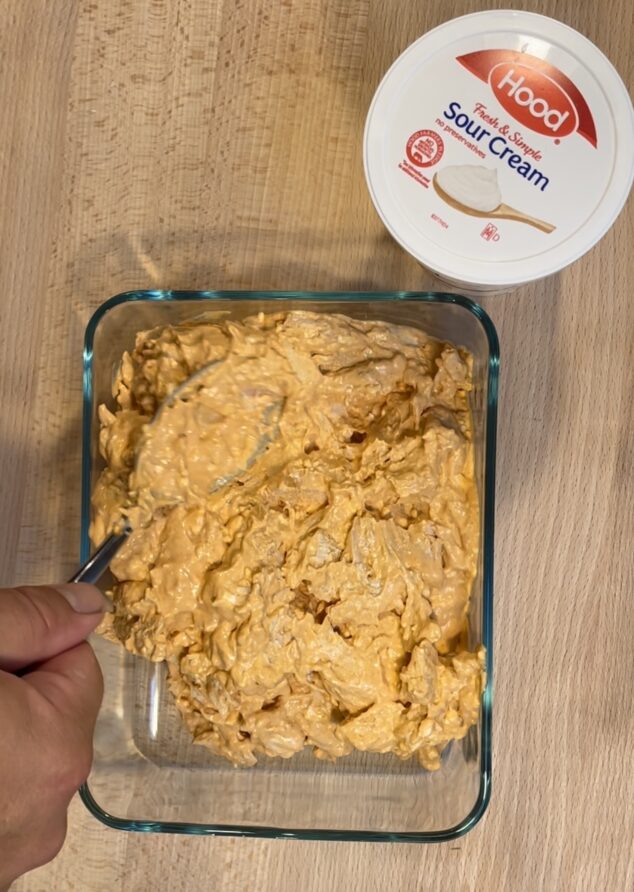 5. Pop into the oven at 425 degrees (always heat oven beforehand) for about 20 to 25 minutes, or until you see the cheese
bubbling. Keep an eye on the cook time!
6. Serve with tortilla chips, corn chips, pitas, carrot sticks, celery sticks, or any vegetable sticks.
The great thing about this tasty dip is that you can eat it at room temperature or you can keep it on a hot plate at medium heat so it stays warm. The best way to eat it is when it comes right out of the oven.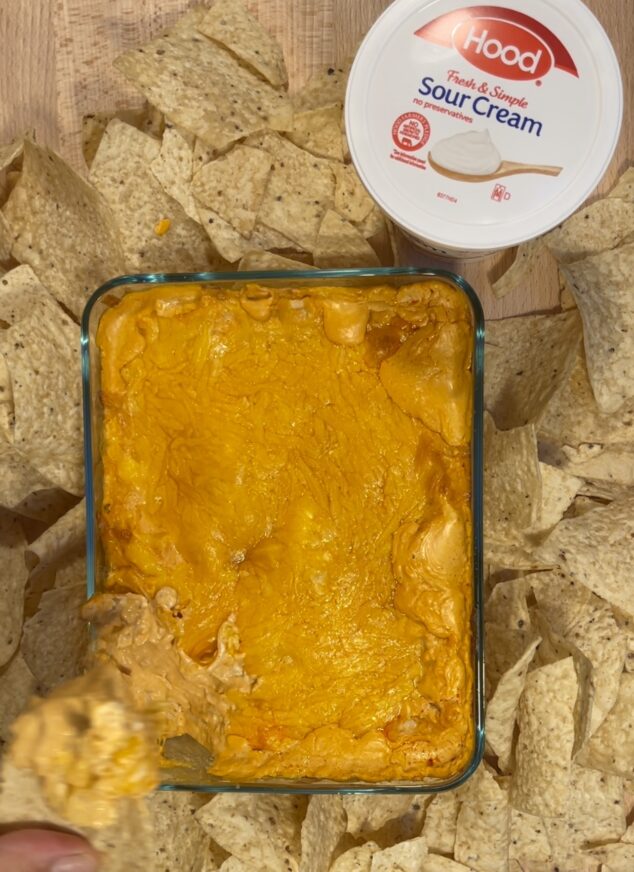 You get a little bit of the melted cheese and it's the perfect creamy dip to sink your teeth into. I'm telling you, there's nothing like that creamy cheese sauce on top. It's EVERYTHING. Again, nobody is calling this a healthy buffalo chicken dip!
I actually will eat this easy buffalo chicken dip recipe the next day after refrigerating it all night like a chicken salad. I'll grab a hamburger bun and scoop it in. It goes from a favorite appetizer to a quick lunch, always a great option. Just think of this for special occasions, game day appetizers, for the super bowl, happy hour.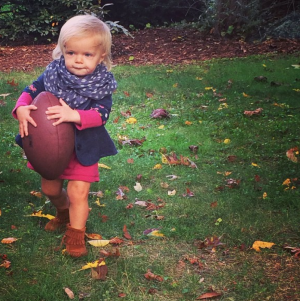 Here are some questions I've gotten about making this Buffalo Chicken Dip with sour cream. I know that even though it's a game day favorite and I walked through the steps that I take in making this, there are still questions about this delicious dip.
Can you use Non Fat Cream Cheese or Non Fat Sour Cream?
I don't because I do feel like it changes the consistency of the dip, but if you want to try it with these options, by all means, go ahead. This would definitely make it into a less fat and low carb option.
Can you use different kinds of cheese?
Yes, I've made this with a Mexican shredded cheese mix from the grocery store. I love the mixture of the cheeses, but my kids prefer when I use sharp cheddar cheese.
Do you add salt or black pepper?
I don't, but you certainly could when it's done and out of the oven. It all depends on your preferred taste.
How can you give it a spicy kick ?
If you prefer a spicy buffalo chicken dip with sour cream you can purchase the buffalo sauce with the spice. There are different options when you're buying it. I prefer non-spicy because I don't like that extra kick to it, but you can certainly buy the extra spicy buffalo wing sauce. My advice is to check out frank's hot sauce.
Can you make this as a Slow Cooker or Crockpot Buffalo Chicken Dip?
I never have, but I'm sure there is a way to do it. It's a great way to make the dip ahead of time and just let the whole thing cook on its own without watching over it. I would assume by making the buffalo chicken mixture in the crockpot it would be easy to have everything meld together.
Can you add garlic powder or onion powder?
Again, it all depends on your taste preference. I wouldn't add a ton, but if you do normally like these flavors mixed into a popular appetizer that you make, try it.
Do you need to eat this as a hot dip?
It's delicious when it's hot for you to eat, but again, like I mentioned above. You can eat it cold as a buffalo chicken sandwich. It's a yummy lunch option and saves you a lot of time the next day making lunch.
Can you make individual portions?
I would make the dip and then scoop it into bowls after it's made.
Here are a couple of appetizers for Game Day:
Check out these other fun football postings: