Looking for some easy braided hairstyles for kids? I'm going to share with you some of my favorite braids that I do on my daughter's hair. These are easy braids that can be done on little girls and older ones, too. A simple and fun braid style is such a pretty way to do your hair, so enjoy these styles.
Easy Braided Hairstyles for Kids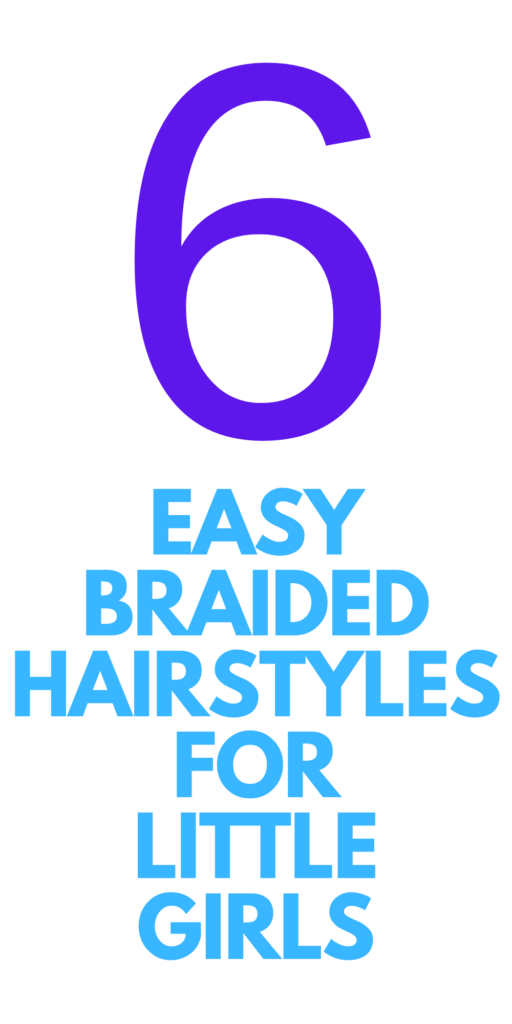 I'm all about easy hairstyles for myself and my daughter. I don't have time to do anything intricate, especially in the morning when we're rushing off to school. I need quick and I need easy. Since I'm all about trying to share new looks with other moms in creating a cute hairstyle for themselves or their children, I'm excited about these ones to share.
I started doing hair tutorials on my daughter because I love creating some fun styles for her. Whether you have short hair or long hair, there's a fun style for everyone. Since my daughter has long hair, I normally create styles that pertain to someone with long hair, but it is very easy to modify them for shorter hair.
When I talk about easy braided hairstyles for kids, I think people normally think I'm going to do a french braid or dutch braids, which I do sometimes, but I like sharing different braided hairstyles that don't require you to know how to do any intricate braids. I've often found that when you're doing a child's hair they don't want to sit still for too long, so the quicker, the better.
I'm going to share with you some of the easy braided hairstyles for kids that I know how to do. These braids can be done quickly, but most importantly, you don't have to be an expert at hairstyles to be able to do these different looks. Braid hairstyles look so pretty on hair, and I love being able to showcase a braided style that isn't just for someone whose an expert at hair.
Whether you have some special occasions coming up or just going for a simple style on your little girl's hair these simple braids are for you. I promise you will find an adorable hairstyle in this group of easy braided hairstyles for kids that you will love for your little one (or for yourself!). There's nothing like an easy style and finding that perfect hairstyle that you can do easily!
Easy Braid Hair Tutorials
I know that there are various different types of braids, but I like to keep it as simple as can be. I feel it's a great idea to know going in what your hair limitations are, but not to forget that practice makes perfect! These are cute braids that will give hair a beautiful look. I always like to remember that sometimes the best braids are the easiest braids to do.
CUTE TWIST BRAIDS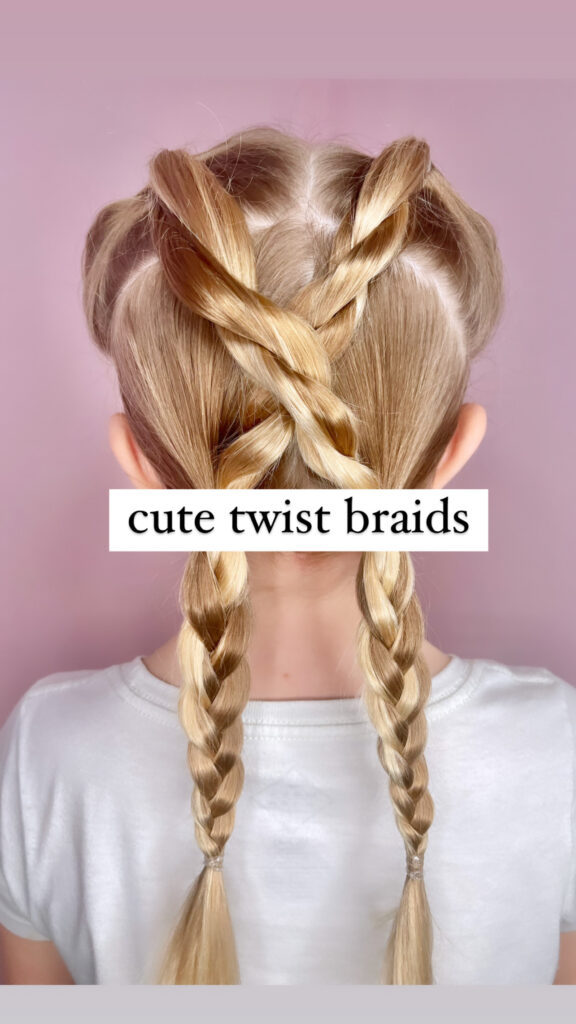 This is a super easy hairstyle and comes out looking like the cutest braids. What I love about this hairstyle, in particular, is that it's just simple to do. I love this one on my daughter's hair because it's a great option when you're short on time in the morning. It's an adorable look that you will love with this great criss-cross braid.
View this post on Instagram
How to do:
Start with 4 sections of hair equally divided out on the head. Almost like you have 4 ponytails on your head (as you will see in the video).
Take the top 2 sections of hair and twist them. This doesn't require you to do any braiding at all, just the twisting of hair.
Cross the sections to the opposite ones and anchor in place with elastic bands.
Take the sections and then do a simple three-strand braid down the bottom of them.
SIMPLE BRAIDED TWIST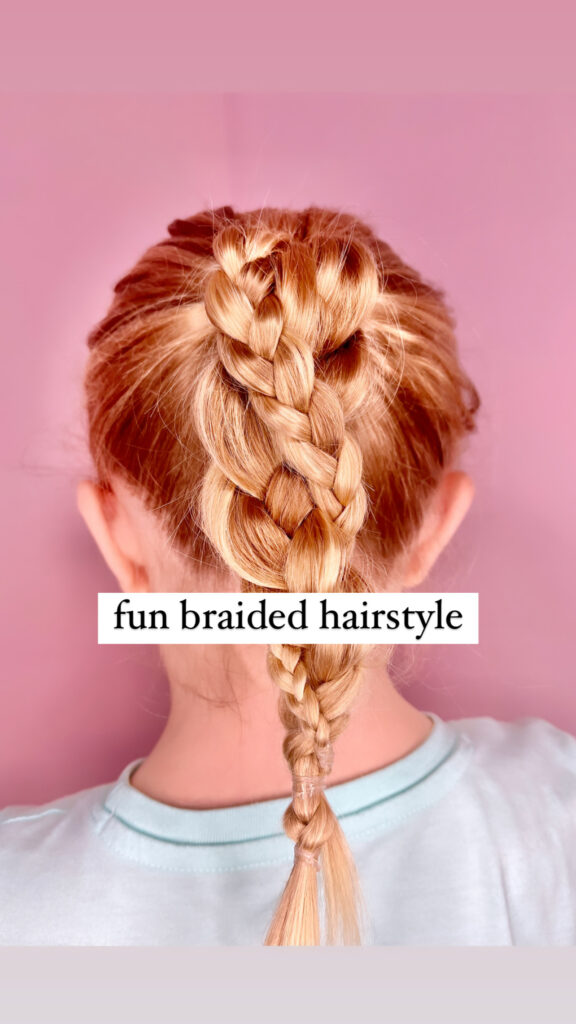 I love this hairstyle because it's so simple, but ends up looking like an intricate style. This is a great choice if you are short on time and just need your kid's hair to be quickly done. The only requirement for this hairstyle is to know how to do a three-strand braid. It's a great style when you're looking for something different, too. I like this one because it's a unique style, too.
View this post on Instagram
How to do:
Start with a ponytail.
Take a small section of hair and do a three-strand braid down the side. Make sure the braid is on the tighter side.
Then take the rest of the hair and do a three-strand braid. This one will be much thicker than the smaller one.
Then you're going to take that smaller braid and wrap and twist it around the thicker braid.
INFINITY BRAID HAIRSTYLE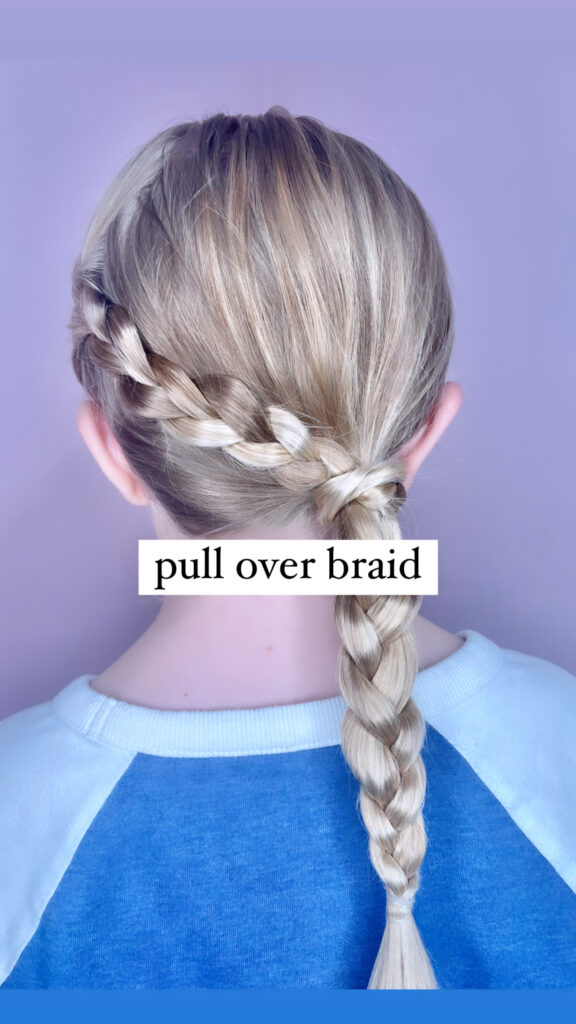 This is a great braid for a little lady that crosses over to the side of her head. I love this one because (again) it's a quick one to do and you don't need to be an expert at braiding to make it work. This hairstyle is a great way to create an updo for school because it will stay put and not unravel. My daughter is on-the-go all the time, so the better I create styles that stay put, the better it is!
View this post on Instagram
How to do:
Start with a side braid and elastic band down at the bottom toward the nape of the neck.
Bring the braid over to the side and elastic band into place.
I then quickly take the rest of the hair and create a three-strand braid down the bottom half.
You can simply add hair accessories to this one and it's perfection!
PULL-THRU BRAID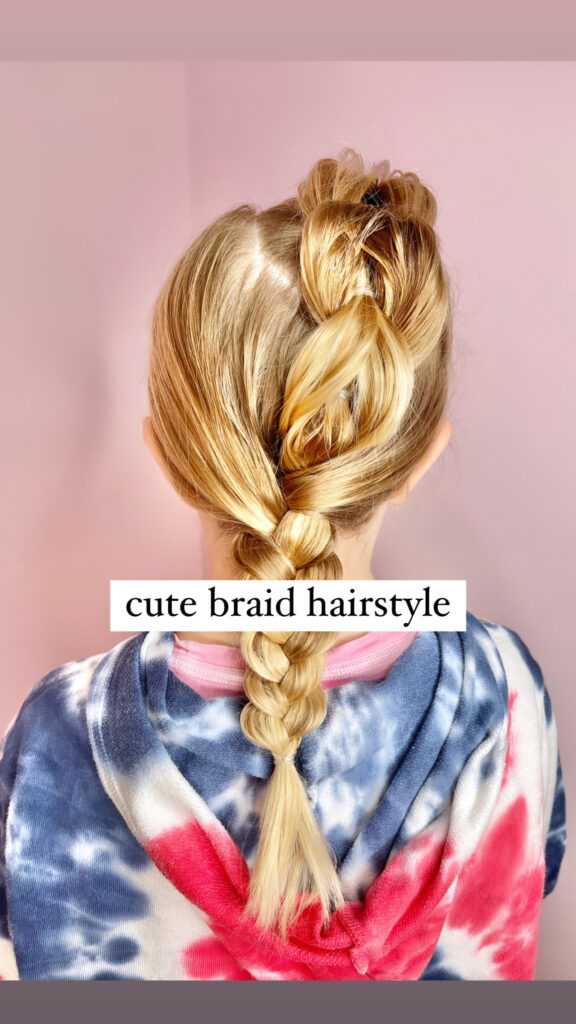 This is one of those creative hairstyles that looks super intricate but in reality… it's VERY easy to do. When it comes to different styles for your hair, it's always easy to go with hairstyles that can be done on the fly. Like I've said before, young girls don't like to sit and get their hair done for a long period of time (at least not in the morning before school!).
View this post on Instagram
How to do:
Start with a section of hair on the top of the head and create a pull-thru braid.
Go down about 2 rotations with it and take your time to really pull them so they're thick.
Bring the remaining hair over and then do a three-strand braid down the back.
Add a bow on the bottom and there you go! This looks so cute on little kids!
LOW BRAID HAIRSTYLE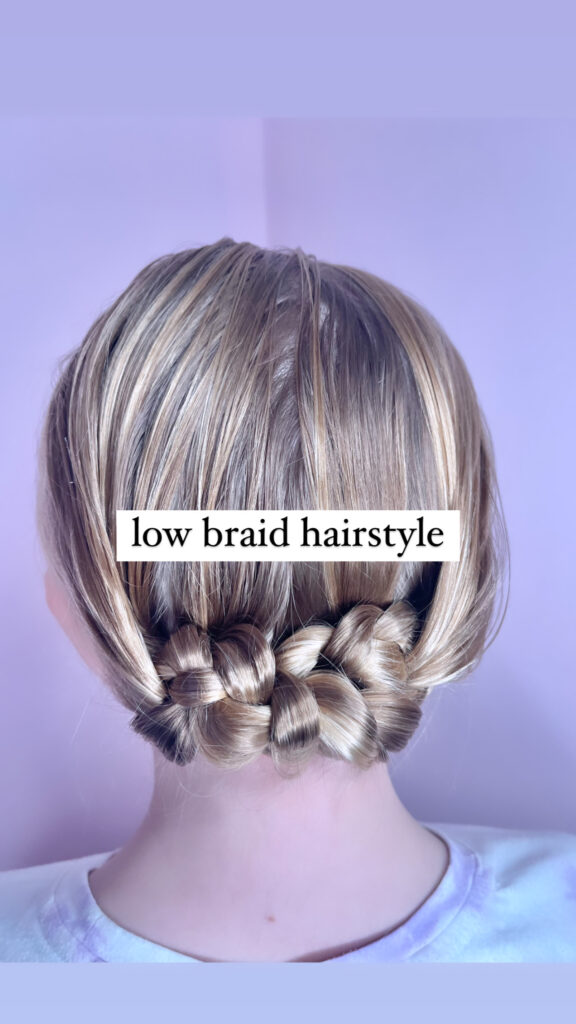 I know for weddings and special occasions, most people opt for a high top knot, but what about a low braid? This is one of those beautiful hairstyles that you can wear just about anywhere. It's simple. It's elegant. It's beautiful. This is one of the most popular little girl hairstyles on my Instagram and TikTok accounts for women.
View this post on Instagram
How to do:
Start with pigtails and do three-strand braids down them.
Then simply hook the two braids into the opposite base of the pigtails.
Tuck in the extra hair so there's nothing hanging out.
This is a perfect hairstyle for a little princess. 🙂
BUN TO BRAID HAIR TUTORIAL
This is a simple hairstyle for you to do, especially if you're looking for something cute. This is a unique look for anyone and super easy for you to do on your hair or someone else's. This is an easy hairstyle that takes all the hair on your whole head and gets it up and pretty. This is a good thing to do on hair and an easy look for anyone.
View this post on Instagram
How to do:
Take your section of hair on top and turn it into a bun.
Then take the rest of the hair and create it into a simple braid hairstyle.
Anchor it on the bottom with an elastic band.
BOHO PIGTAILS WITH HEADBAND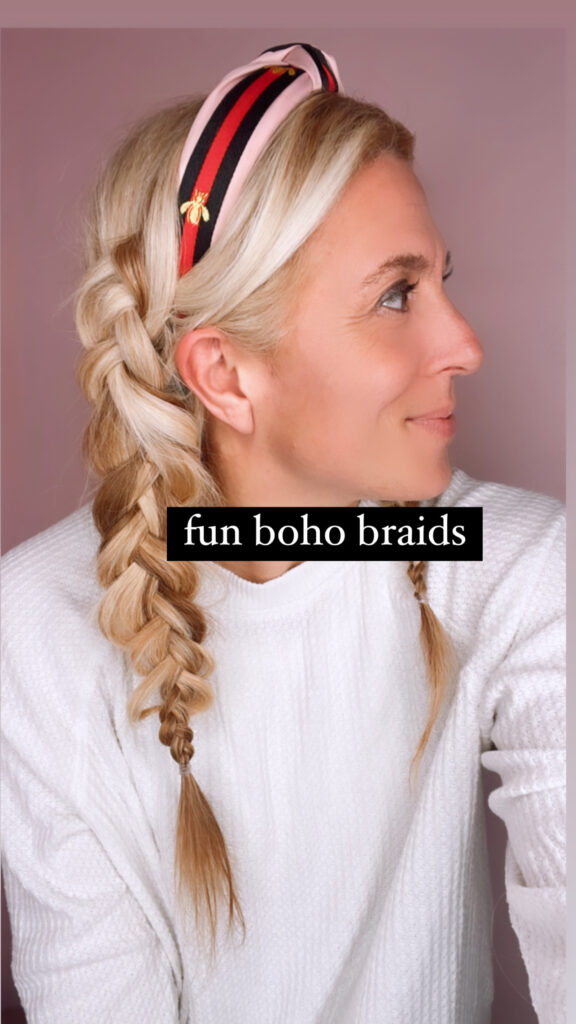 How cute are these pigtails? These are gorgeous braids for you to do on your own hair. I love taking all of the strands of hair and creating the most adorable and beautiful boho braids. I love adding a headband for an extra added sense of flair. These are so easy to do and so simple to create. I'm all about beautiful braids and ponytail braids, and this is the simplest way to make these work.
View this post on Instagram

How to do:

Create some pigtails and start creating messy three-stand braids.
Do it on one side and then do it on the other, too.
Pancake the braids out as wide as you can.
You can add elastic bands or ribbons or cute little bands for some added fun!

I hope you love these kids hairstyles. I do love creating fun hairstyles for my daughter. These easy braided hairstyles for kids are hopefully easy for you to do and come out looking just as beautiful! These little girl braids are sweet and simple and look so cute when they're done.

If you follow me on Instagram or TikTok, you know I love sharing hair tutorials. It's funny, not many people knew I loved to play with hair until last year. Ever since I started sharing more and more hair videos over the last year, I'm asked all the time about my favorite hair products. To be honest with you – there are a ton of hair products that I just love to the core.

I love to do hairstyles on Victoria's hair and use elastics to keep it in place. It's important to get elastics that work when you're doing specific hairstyles. These are my favorite hair products to use on my hair and Victoria's hair.

No Damage Colored Hair Bands – I love these because they're thinner and smaller, so they work really well on hairstyles. They come in a package of 1000 for about $6.00. You'll have these elastics for months and months.

The hair band is made of Eco-friendly silicone, tiny and soft, but also has strong elasticity.
Thanks to the good material, it's comfortable to wear, and has a strong grip but does not pull hair.
It is not easy to break force strongly pulling, be thicker than other rubber bands, and toughness is stronger.

My daughter's hair consistently gets tangles with small knots. I always need to make sure I keep it conditioned and brushed. Every morning I need to spray it to get it to be shiny, smooth, and silky. These are my favorite hair products to use every single day.

HASK Repairing ARGAN OIL 5-in-1 Leave In Conditioner Spray – I just bought this last week and I'm OBSESSED with it. First off – the smell is incredible and it works beautifully. This 5-in-1 Leave-In Conditioner penetrates the hair shaft, gently cleansing while it repairs damage and breakage, leaving even the most rebellious hair frizz-free, silky-soft and super glossy. It's color safe, gluten free, sulfate free, paraben free.

I'm all about finding the best brushes that work on styling hair. Victoria hates when a brush "hurts her hair" (as she puts it). I'm always trying to find brushes that will work well on detangling and smooth her hair easily. I like to use these brushes on my hair, too. These are my favorite hair products for brushing hair.

Detangle Brush – This is a great option when it comes to looking to detangle hair without it hurting. Great for all hair types and ages. Pain Free Detangling with this brush. Innovative and quality, the 274 flexible bristles will gently glide through knots creating less friction than ordinary hairbrushes, resulting in reduced hair breakage.