Are you ready for a Cleaning Challenge? How about a 30 Day Clean House Challenge just for you and your family? Now is the time to get your house under cleaning control. I keep joking with my husband that our house has never looked so clean, but it's the truth.
Cleaning Challenge – 30 Day Clean House Challenge
With 7 people in our family, I've finally taken a smart control of it and excited to share what we're doing. There's one thing I've discovered throughout the years when it comes to cleaning – the only way to really get it done is to do a Cleaning Challenge and to take it slowly. I know I can't handle and my family can't handle one day a week of deep cleaning. We need to take it slowly in digestible bites.
I've come up with a 30 Day Cleaning Challenge. What kind of challenge do I mean? Each day for 30 days will we clean ONE thing. It's a 30 Day Clean House Challenge and it's something that is very practical and very doable for families to do.
The secret? You are assigned "one" cleaning challenge a day. So essentially for 30 days you have (1) thing that you need to do. What I've been doing is rotating our family (yes, even Victoria who is 7 years old), so at the end of the 30 days everyone really only has about 4 things to do. It's easy and it makes cleaning more enjoyable (if it can be deemed enjoyable!).
*It's also important to note that I do have to clean my basics each day… kitchen counters, toilets, surfaces, etc. I don't just do this ONE cleaning thing a day, but believe me… I'm so busy with work and my family and keeping up with the house, that it's tough to keep up with it all.
Here is my full 30 Days of Cleaning Challenge (I have them in 2 different colors and you can print out the printables, too):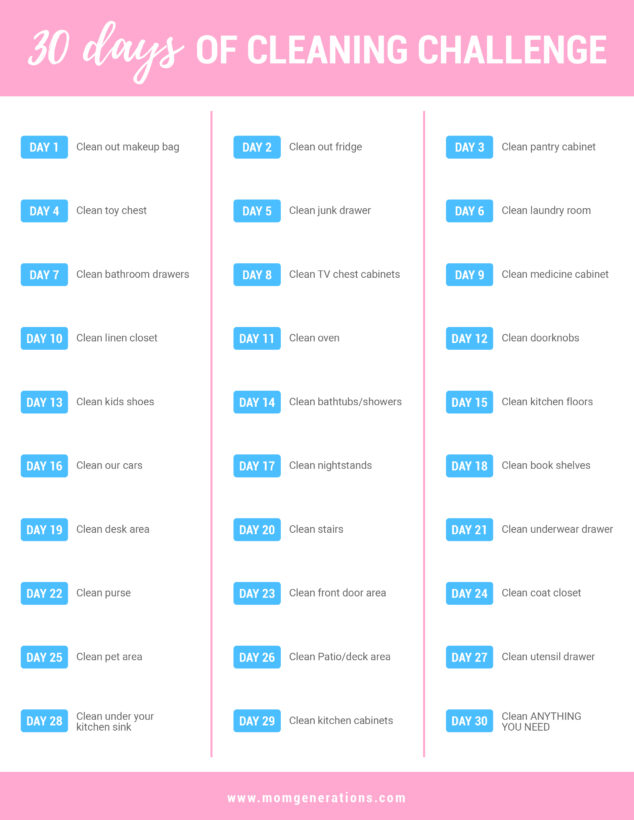 PINK CLEAN CHALLENGE PRINTABLE HERE.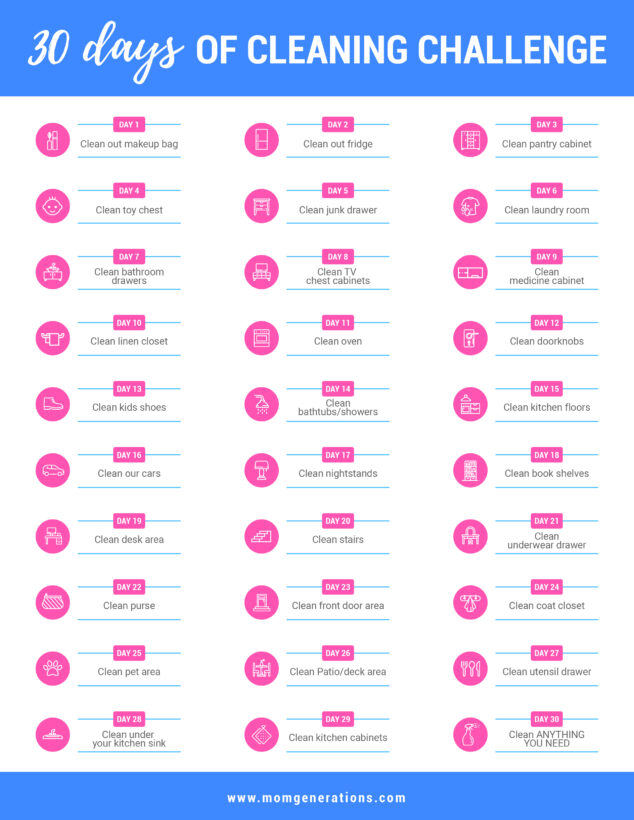 BLUE CLEAN CHALLENGE PRINTABLE HERE.
I tried to think about every aspect of the house – every room, even the car! Everything needs to be cleaned and tended to at some point, it's not always to remember. With 5 kids we also have to maintain and keep up with the clothing and toys. I've seen myself get VERY overwhelmed and stressed throughout the years with cleaning and I just wanted it to stop.
The only thing I could think about doing was trying to make it easy on me and everyone. The kids hate hearing me get overwhelmed. They prefer me to be calm and relaxed (which I do, too). This cleaning strategy has worked well for us throughout the last few weeks and I wanted to make sure I shared it with you, too.
If this isn't your cup of tea, I also have a 21 Spring Cleaning Challenge – which is a spring cleaning list. I just know I needed something beyond just the spring, too. It's not just all about the spring cleaning, it's about the year round cleaning, too.
It's important to stop and think about these kinds of questions – what cleaning chore do you dread? What cleaning task do you usually assign to your kids? How long does it usually take you to clean a room in your house? Do you usually have help while you're cleaning? All of these things come in to play when you're cleaning.
I just wanted to help YOU out! A cleaning challenge is always a good way to drum up cleaning excitement and try to get everyone on board. You can even add some prizes to the mix if you think it would help, too.
Listen – as parents we're all in this together! We need to share what works and what doesn't work. I think it's important to be honest and real and up front with what kinds of things work for YOU and your family. You never know when you'll get a burst of inspiration from something that someone says!
Happy CLEANING friends! Let me know how this works for you!
Here are 50 Things To Do Outside this Spring with Kids
If you need more of a weekly cleaning list:
While I have you here!
HEAD ON OVER AND JOIN ME at my private Facebook group called Fashion Over 40: Daily Dose of Style – HERE!!! I'm all about the fashion tips and in sharing what I can. I love sharing daily deals there every single day. I also share beauty tips there, too. Love your support and let me know what it is you're looking for, too!
Make sure you share with me if there's something you love and I missed it on the blog! See my fun post on my Mother's Day Gifts that will Help you RELAX! I'm all about making sure I'm finding gifts that will help me relax this year. I think this year in particular we need it most! Actually… we deserve it the most this year. Hope these posts help you out!