How to wear an oversized scarf. It can be done and SIMPLY, ladies (I promise!). I was on Pinterest last night searching around for different ways to tie a scarf for a project I'm doing with my niece, and I came across SO MANY blog posts on a million-jillion different ways to fold, wear, wrap, tie, fold, etc. them. Mama mia! It's a scarf, it shouldn't be something complicated. It should be easy for you to do, not like prepping for brain surgery. I love fashion to be fun and fabulous and chic… but I also want it to be easy, not something I'm working on (especially tying a scarf) for over 10 minutes.
How to Wear an Oversized Scarf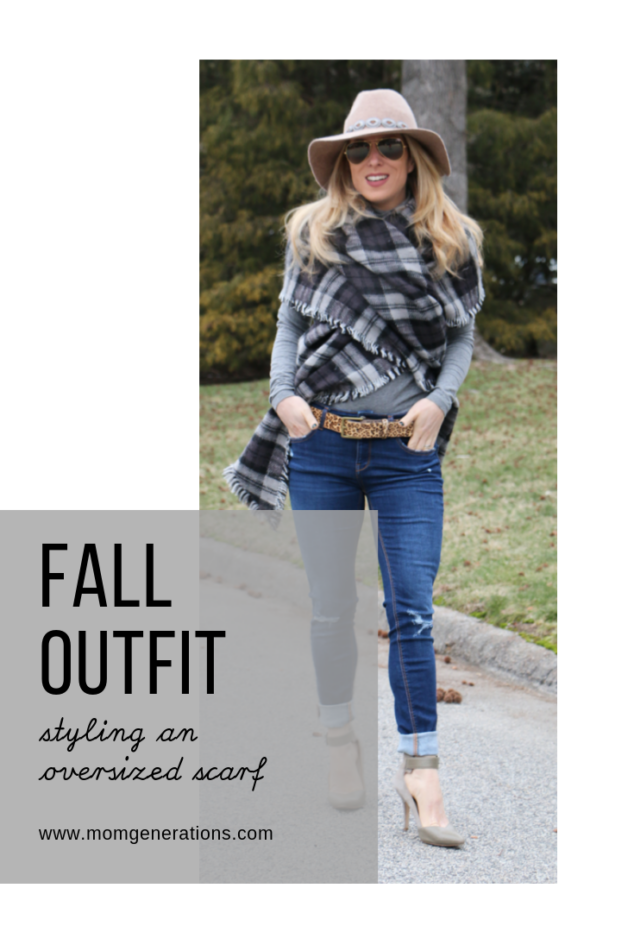 So for today, I thought it would be fun to show the easiest of easiest ways to wear an over-sized scarf.  Here's the easier way to do it:
How to wear an oversized scarf
Find a slimming shirt to wear as the "base."
Wear a pair of jeans/pants/trousers that have a straight or skinny leg fit.
That's it!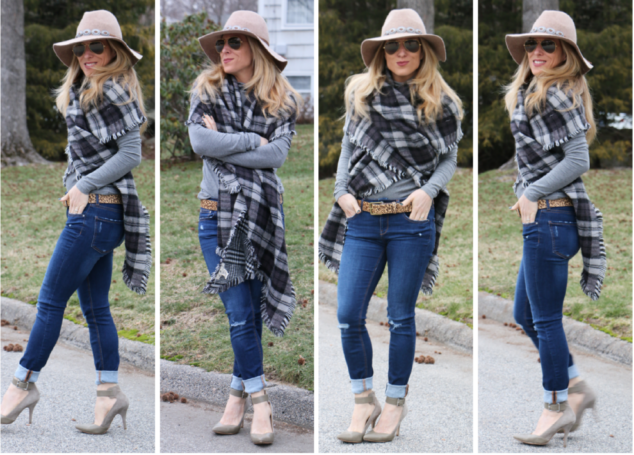 The reason you want a slimming or tighter fitted shirt is because you don't want any extra layers when you're pairing it with an over-sized scarf. You want the scarf to be the focus, not your shirt. As far as the straight/skinny fit pant, same reasoning. You want your shirt and pant to hold the scarf perfectly, not have the scarf look like it's adding extra anything to your look of the day. It's also a slimming way to wear an over-sized scarf because you can (literally) hide any problems areas you might have — mine is my stomach! I've got a pouch from my 5 kids!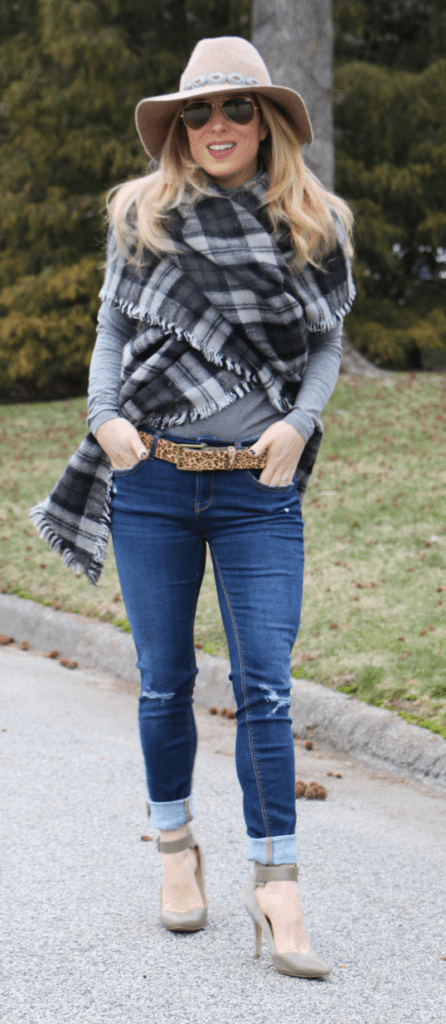 I love to dress-it-up with heels and a hat!
Enjoy your fabulous FRIDAY!
Felt Hat // Distressed Jeans // Over-sized Plaid Scarf // Cotton Turtleneck // Strappy Heels
Make sure you take some time to buy a scarf that works for you! There are so many different styles and shapes and beautiful ways to rock a scarf! Make sure you fall in love with what you're wearing! I personally love wearing oversized scarves with a print. It makes me so happy to be able to rock a gorgeous scarf! They are – for me – the best winter accessory for all time! They really do just look fashionably fun!!
Where can you find these great scarves?
This is my list – Macy's, Nordstrom, TJMaxx, Marshalls, GAP, Lands' End, Banana Republic, Cents of Style!! These are always fab spots to grab some gorgeous oversized scarves.