Two years ago, on my 57th birthday, I faced my great fears of both heights and flying and jumped out of an airplane at 10,000 feet.
Those feet became my greatest feat…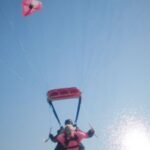 On that same day, I decided to create a LIST (a bucket list, of sorts) of 57 Things in 52 Weeks… a LIST of out-of-my-comfort-zone things and/or wish-to-do things to accomplish within one year, 52 weeks.
I spent my 57th year challenging myself with things I thought I could, or would, never do; as well as finding things to do along the way.
Some things were hugely life-changing, some were hugely fun, some were tiny but important and some jumped before me spontaneously and serendipitously.
Some I did alone, some I did with my husband, some I did with family and friends… and especially with my grandchildren!
And I wrote about many of these things here on my blog.
But I've recently received email and notes from friends asking about my completed list of 57 in 52… so here goes, in no particular order!
1.  Sky-diving on my 57th birthday – October 6, 2009
2. Pole Dancing Classes
3. Mastering "the Elevator" in Pole Dancing Class
4. Winter Surfing
5. Running my 1st 5-mile race
6. Running my 1st 10K
7. Ice-skating at Rockefeller Center
8. Rock Climbing (which lead to more advanced Rock Climbing!)
9. Roller Skating
10. Red Sox – Opening Day 2010
11. Learning to pump my own gas
12. Writing a Children's Story – Grammy and Grampy's African Safari
13. Parking in NYC for 24 hours for $2.50 (that's 2 dollars and 50 cents!)
14. Making Portuguese Rice Pudding from my mother-in-law's family recipe
15. Hula Hooping
16. Learning to do a Flip Turn
17. Hopping on a plane to Florida just to see a favorite musical artist – Jerry Jeff Walker
18. Diving off a diving board
19. Running my 1st Half Marathon
20. Swimming 100 consecutive pool laps/first time
21. Completing a Half Ironman (70.3)
22. (count) 1.2 mile open water Ocean Swim
23. (count) 56 mile Bike Ride
24. (count) 13.1 miles Running after #'s 22 & 23!
25. Going to the Emmy Awards in Los Angeles
26. Posing topless with my daughters Audrey & Jane in Estee Lauder Breast Cancer Awareness Campaign
27. Pogo-sticking
28. Attending my 40th High School Reunion (the 1st one I've attended)
29. Horseback Riding
30. Entering a Halloween Baking Contest
31. Zip-lining
32. Attending my first New England Patriots game
33. Purchasing a Harmonica (and self-learning a few songs)
34. Planting a Tulip Garden (and seeing its gifts!)
35. Walking The Freedom Trail in Boston
36. Searching for childhood "Initials in the Tree"
37. Attempting to master "clip-on" bike shoes
38. Polar Plunge – 1/1/10
39. Diving off anchored boat/swimming like a kid in Winnisquam Lake, NH
40. Meeting Luke Robinson, Murphy & Hudson – 2dogs2000miles.org
41. Finishing and editing a screenplay I began in 1999 – Bitten Apples
42. Blogging naked!
43. Tai Chi classes
44. Winning 1st in Age Group 55-59 Women – Providence Amica 70.3
45. Training for Clearwater, FL 70.3 World Championships
46. Learning to pour a perfect pint – Guinness
47. Tarzan Swing
48. Dinner Theater in NYC
49. Pre-Hurricane Bill Body Surfing
50. Playing "Darkness" Ping Pong
51. Walking a Red Carpet
52. Running Downtown Providence CVS 5K 2010 with my family
53. Taking 10 minutes and 10 seconds off my 1st 5-mile run at my 2nd 5-mile run
54. Winning Age Group 3rd place in Bayside YMCA Sprint Triathlon
55. Featured in Women's Wear Daily – 9/29/10 – in Estee Lauder's BCA Pledge National Ad Campaign
56. Originating, organizing Food Drive for local Food Bank
57. Soliciting, donating clothing to Big Sisters of RI
So there you have it!
What I learned in my year of 57 in 52 is that many wonderful things we do in life must be organized to the last detail, and that many wonderful things happen quite spontaneously. I learned that we must be readying and ready all at the same time!
I learned that people all around us are supportive, happy and wildly encouraging… even when a challenge seems almost impossible.
I  learned that the happiest moments in life are sometimes the loudest, and sometimes the quietest.
I learned that people are passionate about the things they teach… things multiplied in joy by the sharing.
I learned to keep my senses open for just about anything.
I learned that my body follows my mind and spirit, and that my mind and spirit follow my body.
I learned that I have more to give than I could ever have imagined… and it's this GIVING that brings me the greatest joy.
I've carried my 57 in 52 right through 58 and now 59 years.
And I always feel that it's just the beginning of life!